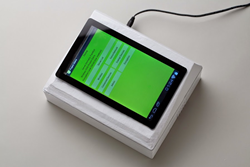 I created Project Sierra for the sole purpose of protecting consumers, so to see a company take advantage of people through a scam is disheartening. However- for anyone who wants an encryption device that actually works, Project Sierra is for you
Portsmouth, VA (PRWEB) October 22, 2014
Project Sierra, a network encryption device currently funding on Kickstarter, provides a solution for those disappointed in the recent crowdfunding controversy over other encryption devices. Another Kickstarter project for an internet encryption device was recently suspended from Kickstarter for misleading consumers about the abilities and origins of its product, a data encryption device. Project Sierra is user-friendly and 100% legitimate- the creator, Kerry Cox, has over 10 years of experience with network security through working with the U.S. Army and in the private sector.
"The controversy surrounding the other project is such a shame," says Cox. "I created Project Sierra for the sole purpose of protecting consumers and their data, so to see a company take advantage of people through a scam is disheartening. However- for anyone who wants an encryption device that actually works, Project Sierra is for you."
Unlike the other project, which claimed to provide anonymity through the Tor network, Project Sierra is a stand-alone device that simply connects to a modem. The Project Sierra prototype is built on DD-WRT and uses an international network of proxies to allow consumers to run their data through a third party IP address and protect your location. Through this connection between the computer and the Project Sierra servers, anonymity and security is achieved.
The device, currently available for $49, protects a variety of data and activity from being monitored including location, search histories, spending habits, webcam access and online behaviors. This protection is more necessary than ever, with new credit card and data breaches occurring every day.
A successful crowdfunding campaign will allow the production and fulfilment of Project Sierra orders. Their funding goal of $150,000 must be met by October 31st. In addition to the $49 pledge level, there are a variety of other rewards for backers to choose from starting at $5.00.
To learn more about Project Sierra or to back their crowdfunding campaign, visit their Kickstarter campaign at http://bit.ly/ProjSierraKS.
About Project Sierra
Project Sierra is a global network with a consumer-grade, Android-based, plug-and-play device that will encrypt all of a user's network traffic and enable them to surf the web anonymously. Encrypting network traffic is essential to avoiding having online activities tracked and recorded. Project Sierra will add an extra level of security without making any changes to a computer or network configuration.