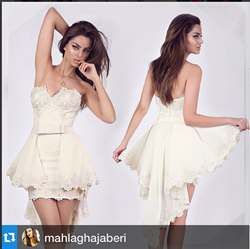 Los Angeles, California (PRWEB) January 31, 2016
Paris Dress, the world's top online fashion website, has unveiled their long awaited Valentine's Day sale. Shoppers from all around the world not only get the chance to dress in some of the most glamorous dresses available, but they get to do so at 10% off. To take advantage of the winter flash sale shoppers can use the code paris10 at the checkout and will receive a 10% on their entire order.
For years, Paris Dress (http://www.parisdress.com) has offered their customers the best designer dresses that money can buy. Some of the top brands that shoppers are treated to include labels from fashion houses helmed by Kristin Cavallari and Betsey Johnson. From whimsical prom dresses to stunning New Year's Eve cocktail dresses, there are a myriad of beautiful outfits and accessories to choose from at Paris Dress.
In line with Valentine's Day, Paris Dress has organized a Winter Flash Sale that offers 10% off to all customers who shop during this season. Whether buyers take home one cocktail dress or a dozen bridesmaid dresses, the entire bill will reflect the aforementioned discount. Here are some reasons why it is important to take advantage of Paris Dress' incredible Winter Flash Sale:
Get ahead of the game
Savvy shoppers know that it does not make much sense to only take home one designer dress. It is unheard of for fashionistas to show up at next year's formal event in the same thing that they wore this year. As trendsetters are going to shop for something new then anyway, they may as well take advantage of the fact that there is a sale going on right now. The thing about these types of discounts is that they do not happen very often so it is best to make the most of it and indulge in multiple orders.
Shop for loved ones
If shoppers have gotten their fill of designer dresses and want to extend this delightful treat to their loved ones, there is no better way to do so than to buy and give a selection of quality dresses away as gifts.
Plan ahead for others
Have a niece who is graduating soon? Have a cousin who is attending her first prom next year? Shoppers in the know are aware that planning ahead is key to saving hundreds, if not thousands of dollars, in designer dresses. By taking advantage of the sale now, shoppers can buy dresses for multiple occasions and for multiple people in advance. Not only will Paris Dress customers receive 10% off their entire purchase, they can also enjoy the fact that the dresses will be shipped to their doorstep complete with a flexible return or exchange policy.
Besides designer evening dresses that are perfect for the holiday season, Paris Dress also offers a wide array of accessories to complete one's look. From fine jewelry to matching shoes, there is no need to head elsewhere to shop for next year's wardrobe. To learn more about Paris Dress, sign up for the website's newsletter, head to http://www.parisdress.com, or call (855) 804-0515 today.