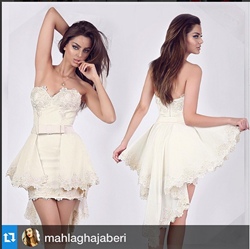 Los Angeles, California (PRWEB) November 30, 2015
Paris Dress, the world's leading online fashion house, has launched their latest collection of designer formal dresses. Be it for prom or for a special event, this fashion site has everything a fashionista needs to look and feel like the belle of the ball.
Paris Dress (http://www.parisdress.com) only offers the trendiest dresses on the market. All the styles are carefully curated to reflect the latest trends that are taking fashion capitals like Milan and Paris by storm. Even those with a keen eye for fashion will be pleased at the myriad of stylish dresses available for the taking. From prom dresses to bridesmaids dresses, shoppers will be spoilt for choice when it comes to Paris Dress' comprehensive collection of beautiful dresses. Shoppers are even able to get their hands on dresses by top notch fashion designers such as Kristin Cavallari and Tarik Ediz.
It is not just Paris Dress' extensive inventory that makes them so special. This online fashion house has also made it a point to offer their customers the full package. Everything from a flexible return policy to complimentary shipping is available. Here are some of the top benefits of shopping with Paris Dress:
Flexible Return Policy
Paris Dress wants to ensure that every customer is 100% satisfied with their purchase so unlike most retailers, they accept returns for store credit or a full exchange. Customers don't have to worry about a complicated process as the company takes great care to ensure that everything is simple and fuss free.
Excellent Customer Service
Whether shoppers have a question regarding pricing, products or delivery tracking, they are welcome to contact the company's stellar customer service representatives 24/7 via email or telephone. Paris Dress also produces a comprehensive newsletter that covers everything from upcoming sales to new arrivals.
Complimentary Shipping
Paris Dress takes great pride in offering topnotch shipping and handling services. Any order over $300 will receive complimentary shipping via UPS. Other options include next day delivery and Saturday delivery. For customers based outside the United States, Paris Dress offers shipping via DHL, UPS or TNT. To qualify for free international shipping, customers need to spend over $600.
Shoes, Bags and Jewelry
Besides designer dresses, Paris Dress also offers shoes, handbags and fine jewelry. Shoppers need not worry about heading to various stores to complete their look. All they have to do is to browse through the site's various categories to find everything they need for a night out on the town. From sandals to wedges, to earrings and clutches, Paris Dress has it all.
Plus Size Dresses
Unlike many other online stores that only sell dresses in conventional sizes, Paris Dress offers a myriad of dresses in plus sizes. There is an entire section dedicated to plus size dresses, many of which boast stylish designer labels.
With the myriad of perks offered to their customers, it comes as no surprise that Paris Dress has made a name for itself as one of the best in the industry. To find out more about what the company offers and to check out their latest collection of designer dresses, head to http://www.parisdress.com or call (855) 804-0515 today.