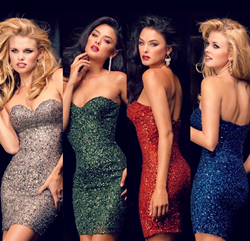 Los Angeles, California (PRWEB) December 26, 2014
Paris Dress, the most talked about addition to the fashion world for dresses, accessories, shoes and handbags online, has recently announced that it is offering customers the chance to receive 50% off their entire purchase when they subscribe to the site's mailing list.
Customers who are eager to get their hands on designer dresses from renowned labels such as Tarik Ediz, Tony Bowls and Dave and Johnny now get the chance to do so with half off their entire purchase. All they have to do is head to Paris Dress (http://www.parisdress.com) , subscribe to the mailing list and become an exclusive member. Eager customers are also urged to follow the company on Facebook, Twitter, Pinterest and Instagram for regular updates and promotions.
According to a spokesperson for Paris Dress, "The whole point of signing up for the mailing list is to get the latest updates on our very exciting upcoming launch, the latest arrivals and of course the chance to get 50% off everything you buy."
With the forceful inundation of fashion boutiques and e-commerce dress sites on the web, ParisDress.com breaks down barriers and stands out above the rest by offering shoppers a myriad of choices when it comes to prom dresses, evening gowns, evening dresses, bridesmaid dresses, cocktail dresses, party dresses and accessories. This is done through clever partnerships with the most sought after labels in the world; some of which include Tarik Ediz, Dave and Johnny, Tony Bowls, Rachel Allan, and Terani Couture, whom are well known for their glamorous dresses and gowns. With so much more to gain and nothing to lose, it is no wonder why thousands of fashion-forward gurus are signing up to be a part of Paris Dress's mailing list at parisdress.com. Boasting an already extensive list of big fashion names and professional stylists, it is only a matter of time before Paris Dress teases the masses with more deals.
Not just that, ParisDress.com also makes online shopping easy and hassle free. Customers are encouraged to make use of the site's in-house team of stylists. Tasked with helping customers find the perfect look for any occasion, the team is also responsible for sourcing for dress sizes, accessories and various other fashion related options. By offering the services of professional on-call stylists, ParisDress.com will give customers the chance to be pampered and treated like a star right from their very own home.
For customers who are eager to make their fashionable purchases now, they are going to have to abide by the saying that, "patience is a virtue", since ParisDress.com will not be officially launching until February 2015. Even so, the bright minds behind this novelty fashion e-commerce site are encouraging customers to start signing up for the mailing list now as it gives them the chance to enjoy fashion-forward deals that no one else has access to.
For more information on Paris Dress or to sign up for the site's mailing list, head to http://parisdress.com/ today.