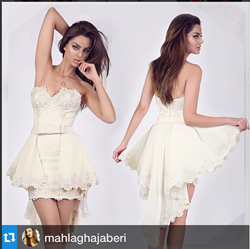 (PRWEB) October 29, 2015
Paris Dress, the world's leading online fashion site, has unveiled their latest collection of stylish dresses. At Paris Dress, shoppers are treated to the largest collection of designer dresses fit for any special occasion.
The unveiling of Paris Dress' (http://www.parisdress.com) latest line corroborates with the Fall/Winter 2015 collections that have recently hit the catwalk. This tie-in means that fashionistas all over the world can now access some of the hottest trends showcased by the top designers and fashion houses operating out of Milan, Paris and London.
According to a Paris Dress spokesperson, "Our latest collection of designer dresses reflects the haute couture elements of this season's trends. Whether you need a formal dress for prom or a cocktail dress for a party, we offer some of the most fashion forward dresses within a stress-free shopping environment."
As Paris Dress is focused on offering shoppers a fun and glamorous shopping experience without the hassles that come with shopping at a brick and mortar store, it comes as no surprise that the site contains dresses in all colors, materials, styles and brands. From Tarik Ediz's formal gowns to Kristin Cavallari's fashion-forward offerings, shoppers will undoubtedly find everything they need and more. Here are several of Paris Dress' most popular collections.
Prom Dresses
Shopping for the perfect prom dress is not easy. Everything from determining the color to the material is important. Paris Dress is pleased to offer pieces by Dave and Johnny from the Prom Dresses 2016 collection. Entitled Dave and Johnny 10243 Illusion Neckline Long Dress, one of the most sought after dresses is a beauty that comes in either dusty rose or peri. It boasts an A-line style, lace embellishments around the bodice and an illusion neckline. It also has a natural waist, side zipper and short sleeves. Going for $310.50, this Dave and Johnny piece is one of the many designer prom dresses available for the taking and will be sure to stun everyone at prom.
Cocktail Dresses
Whether shoppers are planning to attend an engagement party or office get-together, showing up in the perfect cocktail dress is extremely important. First impressions matter and there is no denying that what one wears plays a big role in it. When it comes to cocktail dresses, there is no shortage of unique offerings at Paris Dress. A favorite has to be the MacDuggal 62082R Above-Knee Dress from the Black, White, Red collection. Priced at $498, this black and nude form fitting outfit has cap sleeves, an illusion neckline and upper waist cut. It also boasts intricate details such as beads and lace.
Wedding Dresses
Being a bride is one of the biggest milestones a woman will experience, making the wedding dress one of the most important dresses she will ever put on. Finding the perfect wedding dress is one of the hardest challenges faced by brides all over the world but thankfully, Paris Dress is here to make things simpler. From stunning Tarik Ediz to David Tutera wedding dresses, future brides will be spoilt for choice when it comes to Paris Dress' Wedding Gowns collection.
Alongside some of the trendiest designer dresses, Paris Dress also offers many benefits such as free international shipping, a comprehensive return policy and professional customer service. To check out the latest collection of dresses, head to http://www.parisdress.com or call (855) 804-0515 today.