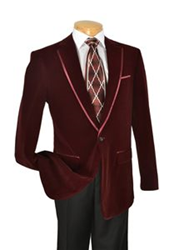 Our goal at TuxedosOnline is to sell prom tuxedos that make young men feel confident and ready to have a fun, memorable evening.
(PRWEB) April 23, 2014
Students everywhere are excited that prom season is here. Prom themes are being planned, the venue is being decorated, and prom dresses are being purchased. In addition, it's time to start planning out what kind of tuxedo to buy. Here are the top five trends for the 2014 prom season, observed by TuxedosOnline.com:
1. Colored vests are in– Bright vests are all the rage right now. Light blue, gold, peach, pink… all are great options to add a little pizzazz to an otherwise neutral-colored tuxedo. Many young men like to choose a vest that matches their date's dress.
2. Bow ties, bow ties, bow ties – Historic and suave, a bow tie is a formal alternative to a tie. Bow ties tend to draw attention to the wearer's face, which is perfect for prom photo opportunities. Moreover, Bow ties are cool.
3. Mix bold colors and styles with neutrals– If choosing to wear a bold vest, it is best to go with a gray or traditionally black tuxedo. If sticking with a matching vest to your tuxedo, branch out and hunt around for a silver, taupe, or pinstripe tuxedo.
4. Surprising new materials– A brightly colored jacket in velvet is a dapper choice for a prom event and many young men are excited to try this slightly different alternative to a traditional sports coat. Velvet Jackets are often seen worn with bow ties. TuxedosOnline recommends pairing a velvet jacket with black pants.
5. Don't be afraid of white– Super trendy and ready to grab the attention of the other prom guests, a white accent can add an unexpected element to a prom outfit. Bold dates might go for a full white tuxedo but a white vest or white shoes are subtle stand-out accessories.
"Being stylish is on the minds of many high school students, but we find that many teenagers want to feel free to express their individual styles at prom," says Vrej Grigorian, CEO of TuxedosOnline.com.