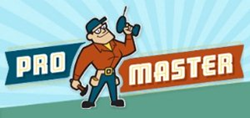 Cincinnati, OH (PRWEB) September 16, 2015
This year, ProMaster Home Repair & Handyman of Cincinnati is one of eight finalists for The Torch Awards (awarded by the BBB); picked among hundreds of businesses in Cincinnati and surrounding areas, to receive this honor. They are the only business in their category—handyman and general home repair services—to be chosen as a finalist in 2015.
"Torch Award Finalists distinguish themselves as ethical businesses and nonprofits that are doing the right thing," said BBB president and CEO Jocile Ehrlich. "The Torch Award application process requires true self-evaluation to determine if your 'walk' matches your 'talk.'"
By encouraging businesses to self-evaluate their ethical practices, the Better Business Bureau hopes to encourage businesses to think through their own ethics policies and behaviors. The Torch Awards' independent panel of judges helps determine whether businesses are meeting or exceeding their own stated ethical standards.
Torch Award finalists are identified based on positive ratings from the community. The BBB then assigns a panel of judges to examine each candidate's business ethics as they are practiced in day-to-day operations. Candidates who pass the panel's assessment become finalists.
ProMaster's Commitment to Excellence
With a coveted A+ rating from the BBB, ProMaster's standards to ethical excellence include employing, rather than subcontracting, the home repair professionals on staff. "Each family friendly employee must pass a strict criminal background check and rigorous skill assessment to ensure they are qualified and experienced to perform the work," according to the company's website.
In addition, ProMaster Home Repair & Handyman of Cincinnati is committed to "on-time, professional service," offering a $25 discount if employees show up more than 10 minutes late to a scheduled service call. Plus, the company offers a 1-year guarantee on its work.
To ensure that it maintains its adherence to the Better Business Bureau's Standards for Trust, ProMaster Home Repair & Handyman of Cincinnati also has the company's financial statements audited each quarter by SBS Unlimited Inc. The company's advertising standards are reviewed by Teakwood Marketing and James Joseph Enterprises, as well. And information on the ProMaster's current insurance and workers' compensation coverage is available to interested members of the public upon request.
A History of High Standards
The Torch Awards finalist honor is not ProMaster's first accolade. In 2010, the company received Cincy Magazine's Tristate Success Award. The company also boasts an "A" rating on Angie's List, a business ratings and review site with over 3 million active members. Additionally, ProMaster is an upstanding member of the Greater Cincinnati Chamber of Commerce and the Clermont County Chamber of Commerce.
Cincinnati residents can learn more about ProMaster by visiting http://www.mastermylist.com or their listing on the BBB's website.
The Awards Ceremony
The Center for Ethics at BBB is hosting a gala event for the Torch Awards finalists on October 29, 2015, at the Horseshoe Casino. Tickets are available from the Better Business Bureau.
ProMaster joins seven other Cincinnati-area businesses as a finalist on the 2015 Torch Awards list. Other local finalists include Coldwell Banker West Shell, Queen City Homecare, and Meyer Capital Management, among others.
The Center for Ethics at BBB focuses on developing and evaluating ethical business practices among both non-profit and for-profit businesses. The Center for Ethics provides tools for voluntary self-evaluation of businesses against the BBB's nationally recognized standards for ethical business practices. It also provides on-site assistance, consultations, workshops, and other resources. Interested members of the public can see local business ratings by visiting the BBB's website.
Learn more about ProMaster's story and dedication to excellence on their website at http://www.mastermylist.com/about-us/.