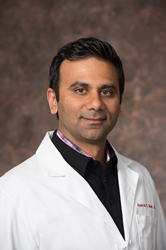 It is always an honor to be recognized by my peers. Being included on a list with so many talented physicians as a 2019 Castle Connolly Top Doctor, is quite the compliment. I will continue my commitment to improving the health and well-being of my patients, says Dr. Apurva Shah
ATLANTA (PRWEB) October 10, 2019
Dr. Apurva Shah has once again been recognized as a 2019 Castle Connolly Top Doctor. Recipients of this award were nominated by their fellow doctors, and it is a highly selective list. Those who are among the very best in their specialties are chosen for inclusion. Dr. Shah is board-certified in cardiology. Currently, he is a physician at Northside Heart, which is one of North Atlanta's largest groups providing cardiology services, with multiple locations throughout the area. Practicing primarily out of the Woodstock office, Dr. Shah specializes in cardiovascular diseases and in non-invasive cardiology. He has a particular interest in cardiovascular imaging, including cardiac perfusion studies, echocardiography and cardiac CT. Dr. Apurva Shah is a trusted physician who is dedicated to providing his patients with top-quality medical care. Many of Dr. Shah's highly-satisfied patients have shared that he is an excellent communicator, attentive and exceptionally knowledgeable in his field.
"It is always an honor to be recognized by my peers. Being included on a list with so many talented physicians as a 2019 Castle Connolly Top Doctor, is quite the compliment. I will continue my commitment to improving the health and well-being of my patients," says Dr. Apurva Shah
About Castle Connolly and America's Top Doctors ®
The mission of Castle Connolly Medical Ltd. is to help consumers find the best healthcare. The top doctors who are listed on their books and website directory were nominated by peers in an extensive survey process of thousands of American doctors each year. These Top Doctors' medical educations, training, hospital appointments and disciplinary histories are rigorously screened by the Castle Connolly physician-led research team. Doctors do not and cannot pay to be included in any Castle Connolly Guide or online directory.
More about Dr. Apurva Shah
Dr. Shah has been practicing medicine for the past twenty years. He completed his medical school training at the Chicago Medical School and his internal medicine residency at Thomas Jefferson University Hospital in Philadelphia, PA. His cardiology fellowship was performed at the University of Medicine and Dentistry/Robert Wood Johnson Medical School of New Jersey. During that training, he also spent time at the Deborah Heart and Lung Transplant Center. He has been practicing medicine in the Atlanta, Georgia area since 2005.
To schedule an appointment or learn more about Dr. Apurva Shah and Northside Heart please call 770-924-5095 or visit http://www.northsideheart.com/physician/apurva-shah. His Top Doctor profile may also be reviewed on http://www.castleconnolly.com.