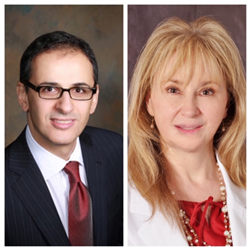 "Michele is a respected colleague with a unique talent and ability to create a refreshed, natural look for patients with facial rejuvenation, and we are excited to introduce this collaboration," says Dr. Khosh
NEW YORK (PRWEB) August 20, 2019
Dr. Maurice Khosh, a highly-respected dual board-certified facial plastic surgeon practicing in Manhattan, is announcing a new office with Michele Rivard, PA. She is a knowledgeable physician assistant who focuses on aesthetics and plastic surgery. As an experienced professional who uses innovative medical and anti-aging technology, she provides patients with a comprehensive approach to aging concerns.
Michele Rivard, PA, has a distinctive ability to help patients achieve a natural look using neurotoxins and dermal fillers. Her expertise in facial rejuvenation techniques and commitment to excellence help patients rediscover their natural beauty. Michele Rivard, PA, provides personalized treatment plans that blend technical expertise with skilled artistry.
"Michele is a respected colleague with a unique talent and ability to create a refreshed, natural look for patients with facial rejuvenation, and we are excited to introduce this collaboration," says Dr. Khosh.
Michele Rivard, PA, holds a Doctorate in Physician Assistant Studies with a Fellowship in Facial Plastic Surgery from the University of Lynchburg. She is an active member of the American Society of Plastic Surgeons, the American Society of Lasers in Medicine and Surgery, and has received specialized training with lasers, skincare, facial filler injections and neurotoxin injections. Additionally, she has been awarded numerous honors for her knowledge and technical expertise from both colleagues and patients.
The new office, called Creative Facial Aesthetics, is located at 245 5th Avenue, Suite 334 New York, NY 10016.
More about Dr. Khosh
Dr. Maurice Khosh is a renowned NYC dual board-certified facial plastic surgeon. He is a fellow of the American College of Surgeons and a member of the American Academy of Facial Plastic and Reconstructive Surgery and the American Academy of Otolaryngology-Head and Neck Surgery. http://www.facedoctornyc.com
Appointments with Michele Rivard, PA, can currently be made by calling (212) 339-9988 or emailing: Michele(at)Facedoctornyc(dot)com or MicheleRivardPA(at)gmail(dot)com