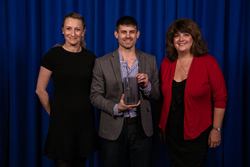 Perfect Imprints separates itself from its competition by investing in new technology and utilizing time-saving, mobile applications and digital content to meet the needs of its customers," said Paul Bellantone, CAE, president and CEO at PPAI.
Fort Walton Beach, FL (PRWEB) January 31, 2017
Perfect Imprints Creative Marketing won two technology awards in the 2017 Technology Award Competition sponsored by Promotional Products Association International (PPAI). The Awards Presentation & Reception was held on January 9, 2017 at the Mandalay Bay Convention Center in conjunction with the PPAI Expo in Las Vegas. The PPAI Expo is the largest promotional products trade show in the world and is attended by more than 11,000 distributors and 1300 manufacturers.
PPAI recognized Perfect Imprints with a Gold Technology Award for their Promotional Products Blog. Their blog educates their customers about new and trending promotional products as well as ideas how to effectively and creatively use promotional items to help grow their businesses. Continual education is a core value at Perfect Imprints and it shows through their award-winning blog.
The company was also presented a Bronze Award for their Social Media efforts across all media platforms, including Facebook, Twitter, LinkedIn, and Instagram. Along with their award-winning social media, they also offer social media management services for select clients.
About Perfect Imprints
The Fort Walton Beach, FL company was founded in 1999 with a focus on providing the creative use of promotional products for their clients. Now the company has grown into a full service marketing agency providing their clients with creative advertising concepts and products to promote their events and companies.