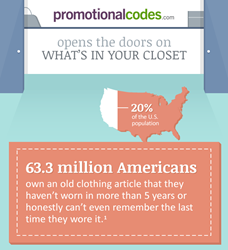 Santa Monica, CA (PRWEB) March 18, 2014
Spring is almost here, and with it comes the nagging guilt to clean out the closet. Even those who do spring cleaning each year have items that are difficult to part with; but how long is too long to hold onto something, and are the items getting any use? According to a survey released today by PromotionalCodes.com, conducted online by Harris Poll among over 2,000 U.S. adults in February, three in five Americans (61%) say they've actually worn the oldest item in their closet in the past year.
While a majority of Americans are still enjoying their older clothes, over 63 million(2) (27%) say either that it's been over five years or that they honestly can't remember the last time they wore their oldest item of clothing. While the reasons may vary for holding on to something that hasn't been used in a while, one in five of those who have not worn the oldest item of clothing in over a year or can't remember when they wore it last just aren't sure why they haven't thrown out their oldest item of clothing (20%).
"When we conducted the survey, we felt that most people who hadn't worn their oldest clothing item in over a year or couldn't even remember when they wore it last weren't parting with that item because either they spent too much money on it or because of the sentimental value," said PromotionalCodes.com consumer savings expert Regina Novickis. "While these were both valid reasons given by those consumers, we were surprised that the largest proportion (20%) weren't even sure why they keep that t-shirt, jacket, dress or other item of clothing."
Perhaps most shocking, though, was that the oldest item Americans are holding on to is a t-shirt. Whether representing a favorite sporting team, a shirt from college, a memento from a vacation or it just fits them to a "tee," t-shirts are the oldest item of clothing that 21% of Americans are still holding onto.
Other key findings include:
Shape Up or Ship Out! Among Americans Who Haven't Worn Their Oldest Clothing Item In Over A Year, Or Can't Remember When They Wore It Last:

15% say the reason why they haven't gotten rid of the old item they haven't worn is because it doesn't fit them now but they hope it will again someday; women are more likely than men to say this (18% vs. 11%).
15% won't get rid of the item they haven't worn because it has sentimental value. Likewise, 6.4 million(3) of these Americans (7%) who haven't parted with the oldest item in their closet still have it because the item was very expensive.
One in five (20%) of these Americans aren't sure why they haven't thrown it out.
Men are more likely than women to say they just haven't gotten around to throwing that item away (19% vs. 12%).
Who Wears the Pants?
Those who are not married are more likely than those who are married to say their oldest item of clothing is a pair of pants (14% vs. 8%).
Though one in five Americans (21%) say that the oldest item of clothing in their closet is a t-shirt, 16% say it's a jacket and 13% of women say it is a dress. Men are more likely than women to say their oldest item is a t-shirt (25% vs. 17%).
Women are more likely than men to have worn their oldest item of clothing more than a year ago, or not remember when the last time they wore it was (42% vs. 36%). In fact, almost one in five women (18%) say they honestly don't remember the last time they've worn the item, compared to 14% of men.
For more information or to find the latest promotional codes and discounts, visit PromotionalCodes.com, its Boardwalk Savers blog, or follow the site on Facebook, Twitter, GOOGLE+ or Pinterest. Android and iPhone users can also find the latest deals on the free PromotionalCodes.com Coupon App.
Survey Methodology
This survey was conducted online within the United States between February 24 and 26, 2014 among 2,057 adults aged 18 and older by Harris Poll on behalf of PromotionalCodes.com via its Quick Query omnibus product. Figures for age, sex, race/ethnicity, education, region and household income were weighted where necessary to bring them into line with their actual proportions in the population. Propensity score weighting was used to adjust for respondents' propensity to be online.
About PromotionalCodes.com
PromotionalCodes.com is a coupon savings website that provides thousands of free online coupons and promotional codes from top brand names like Macy's, Target, Home Depot, Travelocity, Dell and many more. The site is developed by Santa Monica-based SurfMyAds.com, Inc., which also owns and operates Coupons.ca, Codes.co.uk, CouponWinner.com and myShoes.com. For more information, visit SurfMyAds.com.
About Harris Interactive
Harris Interactive is one of the world's leading market research firms, leveraging research, technology, and business acumen to transform relevant insight into actionable foresight. Known widely for The Harris Poll®, Harris offers proprietary solutions in the areas of market and customer insight, corporate brand and reputation strategy, and marketing, advertising, public relations and communications research across a wide range of industries. Additionally, Harris has a portfolio of multi-client offerings that complement our custom solutions while maximizing a client's research investment. Serving clients worldwide through our North American and European offices, Harris specializes in delivering research solutions that help our clients stay ahead of what's next. For more information, please visit http://www.harrisinteractive.com.
Footnotes:
1. Calculation based on U.S. Census Bureau's 2010 Census, which estimates there are 234.6 million adults ages 18+ residing in the United States: 234.6M x 11% who say they last wore their oldest item of clothing more than 5 years ago = 25.8M
2. Calculation based on U.S. Census Bureau's 2010 Census, which estimates there are 234.6 million adults ages 18+ residing in the United States: 234.6M x 27% who say it's been more than 5 years or cannot remember the last time they wore the oldest article of clothing they purchased = 63.3M
3. Calculation based on U.S. Census Bureau's 2010 Census, which estimates there are 234.6 million adults ages 18+ residing in the United States: 234.6M x 39% who wore item more than one year ago/can't remember when last wore item = 91.5M. 91M x 7% who say they've kept it because it's very expensive = 6.4M