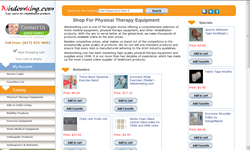 We bring to you Pronex Cervical Traction Device in regular size on sale.
Oceanside, CA (PRWEB) May 02, 2015
Neck pain is often caused by one or more compressed disks in the vertebrae. This can occur anywhere along the spine but is most common in the neck and lower back. WisdomKing.com understands the needs of the patients suffering from neck pain, and brings to their rescue Pronex Cervical Traction Device at a discounted rate. The cervical traction device confers unparalleled traction therapy, which is a perfect alternative to the long-term clinical care.
One of the executives stated, "We bring to you Pronex Cervical Traction Device in regular size on sale. Using this device will provide you the much needed support to your head and neck. It exerts force evenly and gently, and gives no pressure on the TM joint. It is designed in a manner that supports normal curvature of cervical spine. Our device is quite handy and you can use it while traveling."
Cervical traction helps in increasing the space between cervical vertebrae that relieves the pressure from intervertebral discs. It controls pain and the discomfort due to the nerve damage and also contributes in improving the mobility and range of action of the spinal joints. Neck traction is usually done to help relieve muscle spasms in the neck and shoulders, and to help reduce the pain of pinched nerves in the cervix. Pronex Cervical Traction Device is an affective device that is being offered by WisdomKing.com at a reasonable price.
The executive further added, "There are a number of reasons that can cause a compressed disc that often results in neck pain. It can be caused by poor posture, repeated straining, tight muscles, an injury or improper lifting techniques to name a few. When a disc is compressed it loses its ability to retain hydration and function properly. It will eventually loosen all of its shock absorbing characteristics and will shorten the distance between the bones of the spine. This leads to pinched nerves and you start feeling the pain. We at WisdomKing.com, provide you an efficient traction device that will definitely reduce your pain, on sale."
WisdomKing.com offers comprehensive selection of medical equipment and other rehabilitation products. It is a leading online store to buy best tens unit from at cost effective rates. They sell quality products and ensure that every item is manufactured adhere to the strict industry guidelines. They have more than two decades of experience that has made them a trusted online supplier of healthcare products. people are who are looking to buy electrode pads for tens unit online, should visit this site.
About WisdomKing.com:
This company has more than 28 years' experience in Physical Therapy Equipment and Supplies retail. Their website was launched in 1998, and since then they have grown to be one of largest and trusted online supplier of health care products. Besides Pronex Cervical Traction Device for neck, WisdomKing.com also offers mobility products, exercise equipment and much more. They provide an exceptional service and use advanced technology to eliminate the expenses of traditional businesses. One can find good quality Intelect Legend Ultrasound Probe here, apart from other ultrasound equipment.
Contact Information:
Customer service
Address: 4015 Avenida de la Plata, Unit 401
Oceanside, CA-92056
Phone: (877) 931-9693 FREE (toll free)
Website: http://www.wisdomking.com/
###