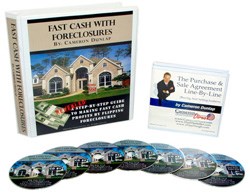 I created the Fast Cash With Foreclosures program to help investors close more deals more often.
Miami, FL (PRWEB) December 31, 2013
One of the biggest and most lucrative opportunities available in real estate today is in foreclosures. With a new wave of foreclosures hitting the market place every few months, they've quite literally become the low hanging fruit of the real estate investing world.
The key however, to making money in foreclosures isn't necessarily in finding them, but in having the specific knowledge and tools to buy them wholesale (at a steep discount) and sell them quickly for a profit.
FastCashWithForeclosures.com and their brand new self titled program not only shows people how to start investing in foreclosures in today's market, but also provides them with the tools and resources needed to succeed. One of the most imperative tools this program contains is the proof of funds letter which is vital when closing deals.
Cameron Dunlap, the creator of the 'Fast Cash With Foreclosures' program and a real estate investor of more than 25 years says, "I created the 'Fast Cash With Foreclosures' program to help investors close more deals more often. I knew that if we could show investors how to easily find great deals and then help them by providing the funding and proof of funds necessary to get the deal closed, that the success rate for investors would be much higher."
Cameron is right, with the number one question asked these days from investors nationwide being where to find money to do a deal, the 'Fast Cash with Foreclosures' program couldn't have come at a more perfect time.
When getting started with the 'Fast Cash With Foreclosures' program not only will investors get Cameron's personal home study course detailing the process for profiting with foreclosure sin today's market, but they'll also get unlimited proof of funds letters backed by Cameron himself, and low cost transactional funding on unlimited deals. Users will also get 90 days of free access to Cameron's iFlip Real Estate software, Cash buyer data feed program, and Inner circle program, two tickets to Cameron's live 3-day Vacant House & Foreclosure Summit training, and much more!
Those looking for more information or for a complete 90-minute training on how to use the 'Fast Cash With Foreclosures' program to start making money in real estate today visit http://www.CameronDirect.com/getproof/replay today.