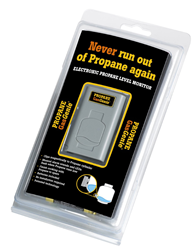 I was thinking about getting the pressure based warning device, but based on the reviews I steered away and bought the Propane GasGenie. Glad I did, It's great and does exactly what it says. - Amazon Customer
LA, California (PRWEB) April 30, 2014
The Propane GasGenie was launched on Amazon almost exactly one year ago. Since then sales have been rising steadily, especially as the BBQ season came into full force. However selling a BBQ grill accessory is a very seasonal business. And until you have year on year data it is not possible to judge whether sales are increasing due to seasonal effects or if the product is really gaining acceptance over time.
The Propane GasGenie is an electronic, battery operated, propane gauge that actively warns the user when his propane tank is getting low. It typically first emits its warning tune and flashes its LEDs when the tank has reached around 20% capacity. Rather like the light on your car's dashboard when the fuel is running low. Unlike other gauges the Propane GasGenie warns in time to finish grilling and choose when to go get a refill.
CEP have been keeping records of the daily sales figures since sales started just before April 1st 2103. This has allowed them to compare this year's sales to sales at the same time last year. The results are very encouraging. Comparing last year to this year shows an increase of more than four times. This figure is for sales through Amazon.com and does not include sales to retailers or manufacturer's reps. When these extra sales are included the figure become an astonishing increase of more than nine times over the previous year.
Peter Frank, of CEP says "We always expected that sales would build up as the product became known. But until now we had no idea how much of the rise was due to seasonal effects and how much was real growth. We are delighted that we are on target to become a major player in the propane gauge market. After all we are the only gauge that actively warns in time to finish cooking and then replace the tank. No more running out of gas in the middle of grilling!"
CEP's policy has been to start with sales on Amazon, then to branch out to smaller retailers and manufacturer's reps. Once there is sufficient knowledge and understanding of the product's capabilities it hoped the larger stores would get in touch with a view to stocking the product in their stores. And this is clearly working well.
Peter Frank again, "We have just been approached by a large store chain with a view to stocking the product. So the policy is working. To quote a well known TV program: I love it when a plan comes together!"
About Creative Electronic Products Inc
Creative Electronic Products Inc searches worldwide for products that are currently not available in the USA. After finding a possible contender it carries out due diligence by investigating the manufacturing Company. It then tests the product thoroughly before approaching the manufacturer to discuss an arrangement for the USA. For more information, visit http://www.cepinc.biz.