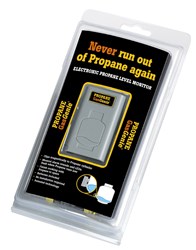 "That works for me Peter. You hit the nail on the head as to what was holding me back. This will be the first order for us and the reviews on Amazon give me confidence we'll be successful with your product..." -- Larry LaBate, Lone Star Storage Services
(PRWEB) October 17, 2013
The Propane GasGenie claims to be the only propane gauge that actively warns the user in time to finish cooking what's on the grill. Typically it warns the user at about 20% capacity of the BBQ propane tank. Within about 10 minutes of switching on the grill, if the gas is getting low, the Propane GasGenie plays its distinctive tune that alerts the user that he should be thinking about replacing or refilling the tank: So in plenty of time to finish grilling.
The product has been selling exclusively on Amazon and sales continue to rise. Recently CEP started to move into small scale retail by selling minimum quantities of 25 units at a wholesale price that will allow the retailers to sell to their customers at a similar price to Amazon. This approach has been well received with many retailers taking the 25 units and reporting back that customer sales are going well. Re-orders are now starting to come in. But the Company noticed that there were also some who, although very interested, were reluctant to risk buying 25 units. Understandably, they were concerned that their investment in the carton of 25 units would not pay off.
CEP is so confident that retailing the product will be simple and profitable that they are now offering a onetime opportunity to purchase just 10 units at the same discounted price as for the 25. After this first purchase the minimum will revert to the 25 units. But by then any perceived risk will have been eliminated.
Peter Frank, CEO of Creative Electronic Products Inc, says 'We realised that many small tank re-fillers, hardware stores, trailer parks etc were concerned that they might get stuck with stock that did not sell. We are so sure that this won't happen that we came up with the introductory offer that significantly reduces their initial investment.
When this new offer was first mentioned to Larry LaBate from Lone Star Storage Services in Texas he emailed 'That works for me Peter. You hit the nail on the head as to what was holding me back. This will be the first order for us and the reviews on Amazon give me confidence we'll be successful with your product...'
Peter Frank again: "The number of times we have heard about someone running out of gas mid grilling and having to drive urgently to the nearest tank exchange is countless. Just offering the customer a Propane GasGenie and explaining how it will help avoid this happening again will almost certainly lead to a sale."
Any retailers interested in this offer should email peter(dot)frank(at)cepinc(dot)biz.
About Creative Electronic Products Inc
Creative Electronic Products Inc searches worldwide for products that are currently not available in the USA. After finding a possible contender it carries out due diligence by investigating the manufacturing Company. It then tests the product thoroughly before approaching the manufacturer to discuss an arrangement for the USA. For more information visit: http://www.cepinc.biz.