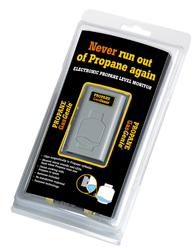 "We have been saying for some time that pressure is a very poor guide to the quantity of gas remaining. It is simple physics at work."- Peter Frank
Princeton, NJ (PRWEB) March 25, 2014
The Propane GasGenie was invented specifically to get around the problem that the very popular pressure gauges suffer from: Namely that the pressure in a propane tank does not change with the quantity of liquefied gas remaining. This means that when the gauge starts to drop there are at best just a few minutes remaining before the tank is completely empty.
Product Innovation Ltd is a UK Company that specializes in inventing and developing 'intelligent sensors'. That is sensors that detect a condition and then react to it in an appropriate manner. In the case of the Propane GasGenie this means detecting a low gas condition in plenty of time and then playing a tune and flashing LEDs to attract the user's attention. He can then comfortably finish cooking what is on the grill without worrying and replace or refill the tank at his convenience.
Peter Frank, CEO of Product Innovation Ltd says 'We have been saying for some time that pressure is a very poor guide to the quantity of gas remaining. It is simple physics at work. But potential customers are rightly cautious about claims made by any manufacturer, especially if they are not a recognized name. So we thought it would be a good idea to get an Independent Test House to carry out pressure tests on full, half full and nearly empty tanks and then write up the report. Once the quotes for this work from a few internationally recognized test houses are at hand we will commission one of them to do the work'.
Product Innovation already has independent test results for their Propane GasGenie and these are published on the product's website. Once these new tests are complete they will be added to the website.
Peter Frank again 'The problem of running out of gas in the middle of cooking is known to every BBQ enthusiast. And there are several different technologies designed to help avoid this situation. However the Propane GasGenie is the only product that actively warns in time to finish cooking. We invented this new patented technology which uses a time and temperature signature to recognize when the gas is getting low. Additionally no installation is required. The Propane GasGenie simply clips magnetically to the side of the tank'.
About Product Innovation Limited
Product Innovation Ltd is an established New Product Development consultancy specialising in inventing and developing new products for manufacturing companies. The company has been in business for more than 25 years and in that time has been involved in a wide range of new products many of which have worldwide patents. Visit http://www.productinnovation.com for additional information about Product Innovation Limited. More information about Propane GasGenie can be found at the following site. http://www.propanegasgenie.com.