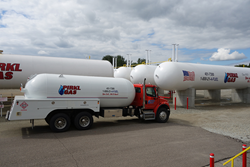 The most critical need for tanks is fast turn-around.
Beaver Dam, Wisconsin (PRWEB) November 04, 2014
The "Perfect Storm" that has resulted in a propane supply problem is caused by three major events in the Midwest. One, the 2013 – 2014 winter was the coldest on record in the last 30 years. Two, farmers had a wet harvest in 2013 and needed propane for drying crops. And three, a key supply route from Canada has stopped transporting propane to the US and is being reversed to use for Canadian tar sands crude production.
Going into the 2014 / 2015 season, propane suppliers have been ramping up with changing strategies to meet the demands of their propane customers. One such strategy that has tank manufacturers and propane service contractors reeling is that propane suppliers are increasing tank storage at an accelerated rate before the 2014 / 2015 cold weather season.
Apache Stainless Equipment Corporation has been manufacturing large stainless tanks since 1975 in Beaver Dam, Wisconsin. In 1990, Apache dedicated a facility in Plover, Wisconsin for carbon steel and non-sanitary vessel fabrication. In June of 2013, Apache entered the propane tank manufacturing market.
"We have been making carbon steel tanks for the paper and pulp and biofuel industries for over a decade out of our Plover, Wisconsin facility," says Dennis Buehring, Vice President of Sales & Marketing at Apache. "The construction of propane storage tanks falls perfectly into our competencies portfolio and we have been positioning to keep up with demand these past eighteen months. In the past 18 months, we have seen our propane storage tanks grow to 30% of our carbon steel business, with the most critical need on fast turnaround."
Jeff Munzel, President of LPG & NH3 Supply,Inc., located in Buffalo, Minnesota, has also been staging his operations for the growth in his business. LPG & NH3 is a supply house for wholesale parts and accessories to retail and commercial distributors and is also a designer and installation contractor for bulk propane plants and industrial propane applications. According to Munzel, the "perfect storm" has prompted his business to sell more propane storage tank projects in the first quarter of this year than any other year in the 37 year history.
Apache and LPG & NH3 teamed up to help Greg and Ann Pirkl at Pirkl Gas in Owatonna, Minnesota to meet their propane storage needs. "After the cold winter and the needs of the areas large farming operators to dry their corn, we knew we needed more capacity. But with the permanent reversal of the (Cochin) pipeline, we decided that the time was now," says Pirkl, owner and operator of Pirkl Gas. He recently added four 45,000 gallon propane storage tanks supplied by Apache, with installation and contracting provided by LPG & NH3 supply.
According to a recent report from the US Congress Joint Economic Committee, 91.7% of houses in the Midwest heated with propane are in rural areas. Pirkl Gas supplies propane to a huge residential and farming customer base in the rural southwestern region of Minnesota. Pirkl adds, "We're ready for the rain and the cold; we now have a 500,000 gallon capacity between our two plants. Heading into the next season, we have the supply to dry the area's bumper corn crop and keep our residential customers warm."

Apache serves the fuel industry with 18k – 90k bulk storage tanks with ASME Code and NFPA 58 certificate. The company has the capability for manufacturing molecular sieve bottles, LPG and NH3 vessels, distillation columns, and atmospheric or pressurized vessels. For more information about Apache, visit http://www.apachestainless.com.