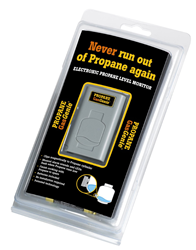 Easy to use, just stick it on the tank near the bottom and forget about it. The GasGenie will let you know when your supply is running low. - Amazon Customer
NYC, New York (PRWEB) May 28, 2014
The Propane GasGenie is the only product that can actively warn a BBQ user when his propane tank is beginning to run low. The device is small and neat and simply clips magnetically to the lower part of the propane tank.
Then using a combination of temperature of the tank wall over time it is able to detect when the liquid level in the tank gets to around 20% capacity or less. It then plays a short tune and flashes its LEDs. It only plays the tune when the gas is being used because it can detect from the temperature change when the BBQ is switched on.
The new competition is available on the product's Facebook page and gives the user multiple ways to enter so that each entrant can increase their chance of winning.
The competition, which runs until Mid June, is operated through the popular Punch Tab platform and hosted on Facebook.
Punch Tab allows the entrant to choose from 9 actions with each action increasing their chances of winning the contest. For example they can keep increasing their chances of winning a Propane GasGenie from the basics like Tweeting, liking Propane GasGenie on Facebook, commenting and Google Plus, to playing the popular Hamburger Frisbee web game.
Founded in January 2011, Punch Tab is a multi-channel loyalty and engagement platform that enables agencies, brands and enterprise organizations to incentivize user behavior and drive business success.
Punch Tab's customers use the company's flexible solutions to deepen audience engagement and build awareness by leveraging everything from social sharing and UGC and awareness campaigns to sophisticated B2E and B2B programs. Punch Tab offers both an out-of-the-box product and a fully customizable solutions that can reward any action with virtual, social and real-world rewards.
CEP chose Punch Tab because they could tie in extra options such as playing Hamburger Frisbee, the websites own fun game as one way the entrants could choose to increase their chance of winning while playing a game that makes people chuckle. The Hamburger Frisbee game also offers a monthly prize for the highest score by a player.
Peter Frank of CEP says, 'We have used Punch Tab before and found it works. Players seem to like it and for us it helps get the word out that the Propane GasGenie is a great little product. It is obvious but if people don't know about your product they can't buy it. So this kind of competition really helps."
About Creative Electronic Products Inc
Creative Electronic Products Inc searches worldwide for products that are currently not available in the USA. After finding a possible contender it carries out due diligence by investigating the manufacturing Company. It then tests the product thoroughly before approaching the manufacturer to discuss an arrangement for the USA. For more information, visit http://www.cepinc.biz.