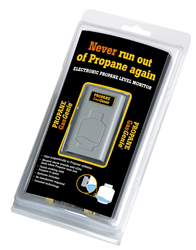 This seemed like a good idea when I discovered it online...and I wasn't disappointed! Not a complicated device, simple to activate and works accurately. Let's you know when you're propane is getting low. - D. Atchley
(PRWEB) March 27, 2014
The Propane GasGenie is the only propane gauge that actively warns users when the gas is getting low. It does this by flashing LEDs and playing a little tune. Importantly the low gas warnings start when there is still enough gas to finish cooking what is on the grill:
Typically at around 20% capacity. This means that the user can choose when to refill or replace the tank without suffering the annoying, and sometimes embarrassing indignity of running out of gas in the middle of grilling. Until now this has been one of the BBQ users most recognized unsolved problems.
Peter Frank from CEP says 'BBQ season is getting going again so we thought we would make the offer so that propane BBQ users can avoid getting into trouble by running out of gas just at the wrong moment. If a couple of friends get together they can order three units and save themselves $10. The offer will last throughout the month on April.'
The Propane GasGenie works on a different technical principal to other gauges. It measures the temperature of the wall of the tank over time and looks for a 'signature' that indicates that the liquid level has reached a point where the user needs to start thinking about replacing or refilling the tank. This is similar to the light that comes up on the dashboard of a car when the fuel is getting low.
Peter Frank again 'Compare this to the very popular pressure gauge types which can only give a few minutes warning at best. This would be like your car's fuel light only coming on when you had enough left to get you just to the end of the street!'
The Propane GasGenie has been selling on Amazon for one year now and the reviews are very positive. The price on Amazon is already discounted 20% so this added discount makes for a very good deal indeed. CEP is intent on spreading the word about this patented new technology and think that offering the discount will get more people to try the product and then realize that there is a better way to avoid running out of gas than had been available until its invention.
About Creative Electronic Products Inc
Creative Electronic Products Inc searches worldwide for products that are currently not available in the USA. After finding a possible contender it carries out due diligence by investigating the manufacturing Company. It then tests the product thoroughly before approaching the manufacturer to discuss an arrangement for the USA. For more information, visit http://www.cepinc.biz.