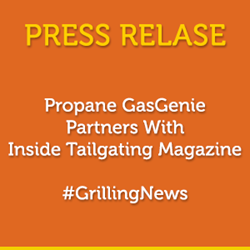 Everyone at Inside Tailgating is extremely eager to partner with the Propane GasGenie and can't wait to show how the Propane GasGenie can ease your mind away from "Propane Tank Paranoia!" - Steve Long, Inside Tailgating
(PRWEB) February 27, 2014
The Propane GasGenie was launched one year ago by making it available on Amazon. Since then it has gathered quite a following. With quotes such as : 'It works!' and 'Installed this last week and grilled this weekend. Simple to install and it does the job! Played the tone, and I knew I had enough time to finish those steaks!' and 'You really do need one of these if you use your grill a lot!' appearing on the Amazon site.
The inventor of the product, Peter Frank says 'Up until the arrival of the Propane GasGenie there was no way that someone grilling could be warned that the gas was getting low in time to do anything about it. The patented Propane GasGenie solves that problem.'
Now CEP has partnered with Inside Tailgating magazine, one of the most popular publications for BBQ enthusiasts, to help promote the product. There will be promotional activity and articles in the magazine as well as online. Steve Long Editor in Chief at Inside Tailgating is enthusiastic about this new partnering.
He says "We use 100's of propane tanks a year. There have been instances (whether in our own backyards or during our events) that we've had to second guess the amount of propane that we've had in our tank. It is very hard to tell how much grilling time we have left and not knowing how much fuel we have in the tank has actually made us spend $ on unnecessary tanks. If we have a doubt, we buy another tank!
Everyone at Inside Tailgating is extremely eager to partner with the Propane Gas Genie and can't wait to show how the Propane Gas Genie can ease your mind away from "Propane Tank Paranoia!" We have seen the independent test results and can't wait to try the Propane Gas Genie ourselves and hopefully load on another round of hamburgers and hotdogs onto the grill!"
For CEP this is an important step forward. With any new product the sales are dependent on people knowing of its existence. No matter how wonderful the product may be, if no one knows about it sales will be low. So getting the word out in this way will help generate the interest that a new product needs in order to become successful.
Peter Frank again: 'Inside Tailgating supporting our product is a very important step in helping us show BBQ users that there is a solution to the age old problem of running out of gas in the middle of grilling.'
About Creative Electronic Products Inc
Creative Electronic Products Inc searches worldwide for products that are currently not available in the USA. After finding a possible contender it carries out due diligence by investigating the manufacturing Company. It then tests the product thoroughly before approaching the manufacturer to discuss an arrangement for the USA. For more information, visit http://www.cepinc.biz.