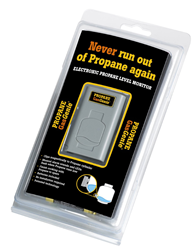 I have now ordered my first batch of products and believe this will be a successful product for me. It really works! - Lee Shafer
Princeton, NJ (PRWEB) April 01, 2014
The Propane GasGenie is the only product that actively warns the user in time that the propane in the BBQ gas tank is getting low. It has been on sale on Amazon for the past year and as a result several small hardware stores have signed up to CEP's retailer program.
Now CEP had decided to interest more stores by engaging manufacturer's reps in various territories. In that way they will be able to expand the number of stores that stock the product. This will also increase awareness that there is a better way for BBQ users to know when they need to swap or refill their propane tank. The reps will need to be calling on propane dealers, appliance dealers, hardware stores etc. and have good experience and contacts in these markets. Any rep who is interested to explore this further can find out more about the product on http://www.propanegasgenie.com and can then make contact through CEP's website on http://www.cepinc.biz.
The first rep to take on the Propane GasGenie was Lee Shafer of Associated Products in Wisconsin. He says 'I first saw the Propane GasGenie on the internet and thought it might be a great product for my Sales Company. So I got a sample and thought I would test it out first on my own BBQ grill. That was a few months ago and I had forgotten all about it. But when I started to grill a few nights ago I suddenly heard this unusual tune. It turned out to be the Propane GasGenie playing its alarm tune and flashing its LEDs. It really works!' Now Lee is finding that as spring arrives his customers are placing more and more orders for this unique product.
There are approximately 43 million BBQ users who use propane as fuel in the US and most of these will have suffered from running out in the middle of grilling. Up until now this has been one of the main unsolved problems in the world of BBQ users.
The Propane GasGenie senses the temperature of the tank wall in two locations and then analyses the results over time. When it detects a 'signature' temperature profile it plays a tune and flashes its LEDs. It is the only product of its kind and has been well reviewed on Amazon where it has been selling well. It also requires no installation. The unit simple clips magnetically to the tank wall.
Peter Frank of CEP says 'As a small Company we realized that getting in to the major store chains right away would be virtually impossible for us. So we started with Amazon, then branched out to small hardware stores and propane re-fillers and now we are ready for the next stage of selling using manufacturer's reps. We predict that the larger stores will show an interest as the product becomes better known. Until then we are very happy to be expanding our business step by step.'
About Creative Electronic Products Inc
Creative Electronic Products Inc searches worldwide for products that are currently not available in the USA. After finding a possible contender it carries out due diligence by investigating the manufacturing Company. It then tests the product thoroughly before approaching the manufacturer to discuss an arrangement for the USA. For more information, visit http://www.cepinc.biz.