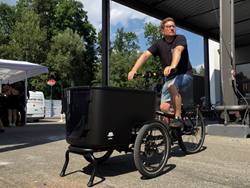 Appearing on 'Bright Ideas,' inspires others to reap the benefits of taking an innovative idea out of the ideation phase and into the execution phase. Even with limited means, before I knew it, I had built something noteworthy
Brooklyn, New York (PRWEB) September 01, 2016
"Nightly Business Report" interviewed the founder of the Brooklyn-based electric bike company covering Chris Nolte's 'Bright Idea' to start an electric bicycle company. The series discusses Nolte's innovative idea and triumphant execution of the idea.
"Nightly Business Report produced by CNBC," (NBR) is an award-winning and highly-respected nightly business news program that airs on public television. Television's longest-running evening business news broadcast, "NBR" features in-depth coverage and analysis of the biggest financial news stories of the day and access to some of the world's top business leaders and policy makers.
The interview will air in New York City, Friday, September 2, on WNET-TV, Channel 13 at 6:30 p.m. Eastern Time and varying times in select markets. To find out what station and time the series airs in each market go to NBR's Station Finder. On September 2, after 8:00pm Eastern Time, the program will be available for viewing at NBR.com.
"Appearing on NBR's 'Bright Ideas,' inspires others to reap the benefits of taking an innovative idea out of the ideation phase and into the execution phase. Even with limited means, before I knew it, I had built something noteworthy." Nolte said.
Propel started in a small, second floor office with a motivating belief that electric bikes would change people's lives. Since 2011, Propel has been closely listening to their customer's needs, and has spent countless hours traveling and researching to learn more about ebike technology as it evolves. Propel's founder is an advocate for changes in policy that promote a more equitable stake for ebikes in the world of transportation. Propel believes in a more sustainable future.
Electric bikes are frequently used as a sustainable method of alternative transport (for individuals or families) or for recreation, exercise, fun and those with physical ailments. In the words of Nolte, "Electric bikes are 'changing the way we move.'"
###
Propel is a full service source for utility and cargo bikes as well as e-bikes and cycling related accessories. Founded and managed by disabled Iraq combat veteran, Chris Nolte, Propel is also a certified Service Disabled Veteran Owned Business. More information found at propelbikes.com/about/