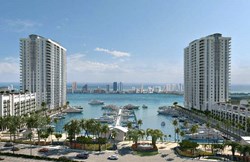 We are seeing signs of a global recovery in property markets, however there are some cities that offer better long term potential than others.
(PRWEB UK) 11 October 2013
Commenting on the findings, Loxley McKenzie, Managing Director of Colordarcy said, "We are seeing signs of a global recovery in property markets, however there are some cities that offer better long term potential than others.
£500,000 is a figure you might expect to pay for a luxury property reasonably close to the centre of the world's major cities, yet there are some cities where high yielding properties can be found for much less.
On this basis, we have chosen five cities where investors can find property for less than £500,000 and benefit from a city centre location and higher than average rental yields."
London
London property prices show no signs that they will be coming down anytime soon.
London is one of the world's best cities to invest in property and safe haven investors have helped push home prices up 9.7% in 2013 according to the latest figures. This was the highest rate of annual growth since 2010 (Source: Data.London.Gov.UK).
Average private rents in London rose 2.2% in 2013 and there are reports that rents have increased by £1,000 in a year in some areas of Tower Hamlets (Source: eastlondonlines.co.uk).
Luxury tenanted apartments can be bought in Canary Wharf for £365,000, which is some way below prices in other high demand areas of the UK capital.
Istanbul
Istanbul property has been attracting buy-to-let investors looking for a bargain. Many investors have not been disappointed as Istanbul continues to outpace every other city in Europe for property price growth.
12.2 per cent growth in 12 months (Source: Property Showrooms) and the relaxation of ownership laws makes Istanbul a great alternative to other cities in Western Europe.
However, Istanbul is not as cheap as it once was and the closer you get to the centre of the city the more you have to pay. A key ready 1 bed apartment in Acibadem, Kadıköy, for example, would set you back around £215,000.
Fortunately typical rental yield for Istanbul are around 8%.
Las Vegas
Las Vegas is not a quiet city, yet it has been under the radar for a long time following a dramatic fall in property prices during the financial crisis.
Property prices in Vegas remain 51% below their peak, which means there are plenty of bargains to be found in this city for the more adventurous property investor.
Property prices rising at nearly 25% per annum in some areas of the city and the population is rising at 2.2% per annum, which makes it one of the fastest growing US cities.
£500,000 currently goes a long way in Las Vegas and can buy a 4,000 square foot luxury home with 4 bedrooms.
Dubai
Dubai often tends to fluctuate between being the best and the worst buy-to-let city to invest in. The city is currently in another dramatic growth cycle. Property prices in this Middle-East City grew 21.7% in a year up until the second quarter of 2013.
The only downside with Dubai is the potential for property speculators to inflate prices up dramatically only for excess supply of property to begin weighing down on prices. Dubai, however is a wealthy city and the long term fundamentals are good.
And Colordarcy's number one city to invest for less than £500,000 is…
Miami
The Miami association of realtors reported last month that luxury condos have seen the largest sales increase after surging 63.9% in the year to July 2013. (Source:Miami Association of Realtors).
Yet there are still opportunities to invest in luxury apartments in Miami for well below the 500k mark. Miami property remains undervalued and the pressure on stock levels continues to have an effect on home price inflation.
Miami property prices increased 14.2% between May 2012 and May 2013 (Source: S&P Dow Jones indices, July 2013 release). Yet prices are still 41% below their peak indicating that there is plenty of money still to be made in the city.
Notes to the editor:
Colordarcy is a leading property investment company that specialises in finding positive cash flow investment properties worldwide. Their aim is to provide their clients with properties that offer the unique combination of strong growth returns and cash flow positive income.
Investing in positive cash flow property significantly reduces the risk because the property will pay for itself regardless of market conditions, employment status or other financial commitments.
Colordarcy provides complete support before, during and after a sale, including finding tenants, financial assistance, viewing trips and currency services. Colordarcy are proud members of the 'Association of International Property Professionals' (AIPP), and abide by its code of conduct, one established to protect the buyer, by ensuring members follow professional guidelines and procedures.
Colordarcy investment property portfolio includes some of the best properties for sale in Brazil, Florida, Turkey and the United Kingdom.
For more information, supporting pictures or logo artwork, please contact:
Brett Tudor
PR Manager
Tel: +44 (0) 207 100 2393
Email: press(at)colordarcy(dot)com
Web: http://www.colordarcy.com/
Colordarcy Investment Ltd
28 Leman Street
London
E1 8ER