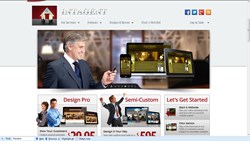 If you have printed flyers or information going out about a new listing, getting a single property website will be a good idea.
Ann Arbor, Michigan (PRWEB) January 03, 2014
Intagent has now allowed the members of their Connect™ Network to create unlimited single property websites, an immensely useful feature that enables the realtors to market their own listings individually. In less than three clicks, they can add local neighborhood information, local school data, mortgage calculators and an impressive slideshow.
Discussing it, a senior executive with Intagent commented, "If you have printed flyers or information going out about a new listing, getting a single property website will be a good idea. These websites can be a great asset to your business and the best part about it is that they are free of charge. You can begin promoting a single property without shelling out a dime."
Intagent Connect™ Network is a platform that allows real estate enterprises to network, thus increasing their standing in the community. The platform allows one share listings, leads information and more. Even the small real estate companies can strengthen their web presence by joining the network, bringing in quality web traffic. It is a powerful tool for local realtors allowing them to buy, sell or rent a property.
Joining the network brings in an array of advantages to the members. As the executive said, "You get a valuable platform to show inventory to potential buyers, increasing buyers' interest in your single property and getting leads that have high chances to convert into sales. The network has been highly advantageous for real estate professionals and they are enthusiastic about joining it."
Intagent websites have a long list of features including the presentation of listing images in flash animation, printing of listing flyers directly from the website, capability to add virtual tours to listings and automatic mapping of listings for easy directions. Visit site of Intagent to get more tips about realtor website marketing. Information on key pages like About Us, Local Neighborhoods, and Financing is easily editable, thanks to customized content management system. Click for more info about real estate agent web design.
About Intagent
Intagent provides marketers with the tools they need to sell their properties. Specializing in realty websites, they know exactly what is required to attain sales of properties online. Get more info here about web design for realtors. Moreover, they have the technical expertise as well to back the websites with all the features required. They provide the ways to add more local content to realtor websites with a few clicks.
Contact Information
Intagent
3737 Bradford Sq. Dr.
Ann Arbor, Michigan 48103
Phone: (800) 209-0740
Website: http://www.intagent.com/