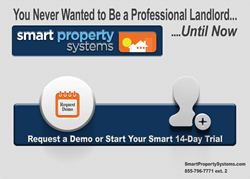 The interface is extremely intuitive to the business owner, & brings a powerful set of tools to the fingers of each user, which allows the business owners to spend more time focusing on their busines. -Lawrence G. Vision Investments, LLC
Sun Valley, Idaho (PRWEB) August 18, 2015
Smart Property Systems, a leading cloud application software for property management, is pleased to announce the new release of the software. This release is rich with features which have been implemented using the very latest Ruby on Rails and HTML5 technology available.
"Our development team has worked long and hard to ensure that this release brings you a more robust and user centric experience. In addition, we have worked to ensure that the new site is fully responsive and mobile friendly- ensuring a cohesive user experience across a variety of desktop and mobile devices" reported Tyrone Wilson, head programmer.
Smart Property Systems has won the Webby for innovative design in the past, and the New Release is the newest iteration of that easy-to-use software design. Subscribers and their tenants will need no specialized training to be able to log in and immediately use this software to manage their investment properties.
The new software release from Smart Property Systems supports all types of investment properties and also offers tools for owners' associations to run their association business. This software also supports student housing for colleges and Universities. REO/Asset managers can use SPS software to keep special credit properties rented and profitable, until a resolution of the status is accomplished.
SPS has also added a new category to the subscription types for those who buy and flip properties.
"The company saw that technology was rapidly changing and made the decision to invest in building the new release. Planning started in 2013 and the actual build process has taken well over a year and a half," says Timmi Ryerson, CEO of the company. "We are very excited to offer this state of the art and very affordable version of our software to the world."
Smart Property Systems boasts all tools necessary to manage rental properties:
-The software is scalable and flexible to enable a user to create use cases that match the business model for that company.
-The classic double entry accrual accounting system performs the assignment of accounts and the balancing of entries in the background with a single entry from the subscriber or tenant.
-Automated rent/payment collection, tenant screening and webflyers, and the ability to embed e-sign on documents, are all built into the software.
-Portals are offered for access by tenants, employee/associates, owners and vendors.
-From the message center, all communications and notices are filed for reference.
The company expects to add more features to this release and offerings which will allow the subscriber to have everything needed for any type of property management in one software.
What users are saying:
As a business owner with an IT background, I have spent several weeks evaluating dozens of property management software packages and finally found what I was looking for with Smart Property Systems. The interface is extremely intuitive to the business owner, and brings a powerful set of tools to the fingers of each user, which allows the business owners to spend more time focusing on their business, and not on how to operate the software running it. I highly recommend this comprehensive software package to any property manager, large or small, who takes his business seriously. Thanks to Smart Property Systems, I have one less thing to worry about!
Lawrence Gaik
Vision Investments, LLC
Smart Property Systems has been in business since 2005 and has served over 20,000 subscribers. The virtual company has headquarters in Sun Valley Idaho and customers in 6 different countries. Language translation is available via Chrome and other web browsers.
For more information contact Timmi Ryerson
P.O. Box 5436 Ketchum, Idaho 83340
timmiryerson(at)smartpropertysystems(.com)
855 796 7771 X 4