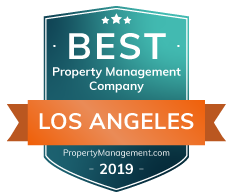 BELLEVUE, Wash. (PRWEB) July 22, 2019
PropertyManagement.com, a leading resource to help property owners identify reliable, trusted, and experienced property management services in the United States, has announced the 2019 Best Property Management Companies in Los Angeles, CA. The guide recognizes 33 top property management firms based on costs, customer rating, reliability, and experience.
PropertyManagement.com used a selection process that evaluated each company across 30 different metrics. After careful assessment of 313 property management companies in the Los Angeles area, only 33 firms were selected for the final list. The research identified companies that scored the highest in outstanding customer reviews, credibility, high-level professionalism and more.
"Whether you own one or multiple properties, it can get very stressful dealing with collecting rent, tenant complaints and maintenance issues," says Joyce Collins, Recognition Manager. "We developed this online resource to help simplify the process by connecting property owners with experienced and reputable property management firms."
In addition to top picks for property management companies, the website also offers tips on rental marketing, tenant screening, liabilities, and a worksheet to keep track of income and expenses. For a detailed listing of the Best Property Management companies in Los Angeles, CA, please visit https://www.propertymanagement.com/companies-in-los-angeles-ca/.
2019 Best Property Management Companies in Los Angeles, California (in alphabetical order)
Alliance Property Management
323-735-5010
4000 Venice Blvd. Los Angeles, CA 90019
Allstate HOA Management
310-444-7444
11030 Santa Monica Blvd., Ste. 100 Los Angeles, CA 90025
Alluvium Property Management
858-692-0039
2520 North Tustin Ave., Unit C Santa Ana, CA 92705
Beverly Hills Property Management
424-888-6194
8685 Wilshire Blvd., Ste. #12 Beverly Hills, CA 90211
Century West Properties
310-899-9480
12327 Santa Monica Blvd, Ste. 101 Los Angeles, CA 90025
Clearstone Property Management
818-997-3040
7100 Hayvenhurst Ave., Ste. 111 Van Nuys, CA 91406
Duke Property Management
310-657-4256
1040 South Robertson Blvd. Ste. B Los Angeles, CA 90035
EGL Properties
310-481-0922
1543 Pontius Ave. Los Angeles, CA 90025
Empire West Property Management Inc
818-982-1220
11668 Vanowen St. North Hollywood, CA 91605
Harbor Property Management
310-340-7767
29623 South Western Ave. Rancho Palos Verdes, CA 90275
HMMY Property Management
888-243-2604
7083 Hollywood Blvd. Los Angeles, CA 90028
Howard Management Group
310-313-0065
11325 West Washington Blvd. Los Angeles, CA 90066
ISM Management Company
530-879-9222
995 Nord Ave. Chico, CA 95926
Jamison Management Company
310-798-9154
107 West Torrance Blvd. Ste. 104 Redondo Beach, CA 90277
JD Property Management
714-751-2787
3520 Cadillac Ave., Ste. B Costa Mesa, CA 92626
JRealty Property Management
888-868-6156
13234 Prairie Ave, Hawthorne, CA 90250
Keystone Realty and Investments
310-970-1000
14715 Prairie Ave. Lawndale, CA 90260
LB Property Management
818-981-1802
4730 Woodman Ave. Ste. 200 Sherman Oaks, CA 91423
Legends Property Management
714-381-3867
15073 Imperial Hwy. La Mirada, CA 9063
Los Angeles Property Management Group
323-255-9400
12750 Ventura Blvd. #202 Studio City, CA 91604
MCM Property Management
323-951-0400
4311 Wilshire Blvd., Ste. 525 Los Angeles, CA 90010
Orange County Property Management
714-840-1700
16742 Gothard St., Ste. 117 Huntington Beach, CA 92649
Pacific Shore Property Management
310-839-8970
5782 Venice Blvd. Los Angeles, CA 90019
PMI Golden State
424-272-8989
15303 Ventura Blvd. #900 Sherman Oaks, CA 91403
Power Property Management
310-593-3955
8885 Venice Blvd. Ste. 205 Los Angeles, CA 90034
Real Property Management California Coast
310-535-2150
115 Lomita St. El Segundo, CA 90245
Real Property Management South San Fernando Valley
818-423-5090
13455 Ventura Blvd. #219 Sherman Oaks, California 91423
Ritz Properties Inc.
213-487-8711
3660 Wilshire Blvd. #714 Los Angeles, CA 90010
Sky Properties Inc
323-882-6606
6711 Forest Lawn Dr., Ste. 107 Los Angeles, CA 90068
Stern Property Management
323-525-1501
5979 West Third St., #202 Los Angeles, CA 90036
TDI Properties Inc
877-389-9277
3325 Wilshire Blvd., Ste. 350 Los Angeles, CA 90010
TGN Property Management
310-623-2704
208 North Coronado St. Ste. 250 Los Angeles, CA 90026
TNCR Property Management
562-320-8770
14201 Lambert Rd. Whittier, CA 90605
About PropertyManagement.com
PropertyManagement.com is an online resource for property owners with expert-advice and data-driven research about management of properties. The website provides a hand-picked list of the best property management companies across the nation. Users can also access free information and easy-to-use tools to help them make educated decisions about their investment property. For more information, visit propertymanagement.com.