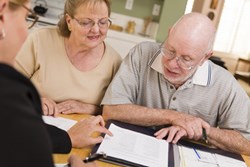 "Most real estate scam artists work on a fairly basic level," the PropertyRecord.com spokesman said. "Their scams are not that complex. So if you simply know what to look out for, you can easily avoid becoming a scam victim."
Houston, TX (PRWEB) October 11, 2013
PropertyRecord.com is starting a new program where they will use their blog to make sure people know how to avoid real estate scams, the company said yesterday.
"Many scam artists have moved into the real estate sector in the past few months," a PropertyRecord.com spokesman said. "That's a product of the fact that the real estate market is looking up, and scam artists always follow the money. We want to do what we can to help people avoid becoming scam victims."
In the past the company blog, PropertyRecordBlog.com, was used to keep people updated about the company's progress, he said. But now, PropertyRecord.com believes that scam avoidance is a better use of the blog.
"Most real estate scam artists work on a fairly basic level," the PropertyRecord.com spokesman said. "Their scams are not that complex. So if you simply know what to look out for, you can easily avoid becoming a scam victim."
The company will update their blog at least twice a week with information about different types of real estate scams, and what to do if they feel they have been targeted by a scam artist, he said.
"Information is power, and a scam artist will run fast from an educated consumer," the PropertyRecord.com spokesman said. "That's why we think our blog initiative will become very effective."
---
About PropertyRecord.com:
Customer service website PropertyRecord.com was created to serve the needs of public records clients across North America. With thousands of requests processed each day, PropertyRecord.com continues to grow as a reputable customer service resource. Visit PropertyRecord.com to chat with a live representative, call 1-855-482-6221, or email manager(at)PropertyRecord(dot)com with any questions or concerns.