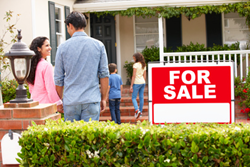 The articles will break down what red flags to look for when searching for a real estate agent.
San Diego, CA (PRWEB) May 09, 2014
PropertyValueLookup.com will soon launch a series of articles designed to help people understand how to pick the perfect real estate agent, the company said yesterday.
"When it comes to buying a home, picking a good real estate agent is crucial," a PropertyValueLookup.com spokesman said. "The wrong agent can cause a home buyer to pay more for a home than they should, rip them off, or simply waste a lot of time that could better be spent finding the perfect home. We want to help people avoid those kinds of traps."
The articles will break down what red flags to look for when searching for a real estate agent, he said.
"A buyer can't just trust their instincts or go with a friendly face," he said. "They want to make sure an agent has a good reputation, won't push them into a home they can't really afford, and has the proper licenses. That's just the basics, of course. We'll get into much more detail in the articles themselves."
The articles will be formatted as part of a guide that people can save to their computers and mobile devices, he said.
"We want these to be a point of reference for anyone looking to buy a home," he said. "We've heard too many horror stories of what has happened to people who have gone with the wrong real estate agent."
About PropertyValueLookup.com:
PropertyValueLookup.com allows consumers to look up the value of any home or property in North America. View public records such as code violations, home inspections, previous owners, current market value and more. Get more information about a current residence or a property you are interested in purchasing with this extensive property database. Visit PropertyValueLookup.com to chat with a live representative, call 1-866-727-5728, or email Manager(at)PropertyValueLookup(dot)com with any questions or concerns.