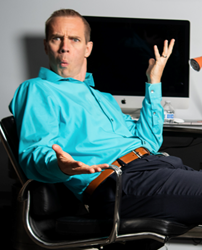 "It's exactly what today's modern learners are looking for." Jeff Havens
DES MOINES, Iowa (PRWEB) March 19, 2019
Prositions, a leading training content producer and distributor, announced today the release of over 150 micro-video training modules created by the Jeff Havens Company. These new additions are based on the works of keynote speaker and author Jeff Havens.
"We are very excited to add these new products to our library of over 3,000 micro-videos in DashTrain!" said Frank Russell, CEO of Prositions. "Jeff has created some of the funniest training videos I've seen. These new micro-learning products will not only entertain, but help energize learners who can sometimes get fatigued with dry instructional content."
Hosted on the mobile-first designed platform DashTrain, the videos can be accessed individually or played in a series to deliver a complete course. The run time for each video is only 4 to 7 minutes in length and can be delivered in almost any way a learner prefers. Segments can also be shown to groups in classroom training, used for self-paced development, or hosted as a performance support tool to be accessed at the exact moment a user wants a quick tutorial or refresher.
"We selected the DashTrain platform because of its unique mobile-first design", said Jeff Havens, CEO and Founder of The Jeff Havens Company. "We believe that our combination of humorous and energizing content along with Prositions' cutting-edge technology, is exactly what today's modern learners are looking for."
Compatible with all devices like desktop, laptop, and tablet computers, DashTrain was designed for mobile devices first, making the application and content accessible to employees who work in the field, on the production floor, or who are difficult to reach with traditional training delivery approaches. Additionally, by giving learners accurate information and answers at their fingertips, organizations can save thousands of dollars by reducing the time employees spend searching the Internet for job-related answers and information.
About Prositions, Inc.
Prositions is a leading provider of learning content and performance support libraries and offers a complete range of consulting, software, and service solutions. DashTrain, their new mobile-first application, contains thousands of micro-video and audio learning bites that enable organizations to give their employees instant access to the world's leading "how-to" business libraries and best-selling authors, anywhere and at anytime. For more information about Prositions, visit https://www.prositions.com
About Jeff Havens
Engaging, charismatic, and full of energy, Jeff Havens is the only business growth expert who provides serious solutions in a seriously funny way. Jeff is an internationally recognized speaker and trainer who uses humor to engage and entertain his audiences. His micro-video library contains a growing collection of personal and professional development courses. Each series contains 4-12 humorous videos and can be viewed in a shorter timeframe than it takes to make a cup of coffee. Topics cover; leadership, customer service, motivation, innovation, employee engagement, ethics, and more. For more information about Jeff Havens visit https://www.jeffhavens.com.