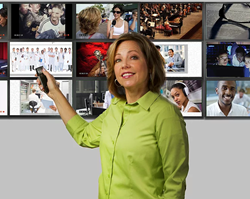 ATD is going to be very exciting this year
DES MOINES, Iowa (PRWEB) April 30, 2019
Prositions, Inc. the microlearning leader and training content producer and distributor, will be unveiling a number of new training programs at the Association for Talent Development (ATD) 2019 Conference & Exposition May 20 – May 22 in Washington DC. There will also be designated times when best-selling author and microlearning producer, Laura Goodrich will be meeting expo attendees at Prositions' booth #1452.
Laura is an internationally acclaimed author and consultant. She has been identified as a top 20 Global Thought Leader on the Future of Work, Change Management, Culture, and Technology. Her global perspectives on workplace dynamics and change have earned her the reputation as someone who can create positive outcomes in even the most challenging workplace dynamics.
"We are so excited to have Laura at our booth this year," stated Jill Dillenburg, Vice President of Sales and Marketing at Prositions, Inc. "We encourage participants to stop by and chat with Laura and preview her latest microlearning products on our learning platform, DashTrain."
DashTrain is an award-winning microlearning platform that is compatible with desktop, laptop, tablet, and smartphone devices. Because of its mobile-first design, it makes learning content extremely convenient and accessible to employees who work in the field, on the production floor, or who are difficult to reach with traditional training delivery approaches. Additionally, by giving learners accurate information and answers at their fingertips, organizations can save thousands of dollars by reducing the time employees spend searching online for job-related answers and information.
"ATD is going to be very exciting this year," shared Laura Goodrich, "We are pleased to be partnering with Prositions and to be included on the DashTrain platform", she continued. "We have designed our content to be delivered in short microvideo modules and the DashTrain platform is the perfect technology solution because of its cutting-edge design."
A selection of Prositions' other newly released programs will be available to preview at booth #1452 including:

The Art of Business Influence with author and speaker Mark Jeffries
Levity University Library with comedian and speaker Jeff Havens
NINJIO Cyber Security Library
Clash of the Generations based on the best selling book by Valerie Grubb
The Super Sales Boot Camp by author and speaker Dave Anderson
About Prositions
Prositions, Inc. is a leading provider of learning content and performance support libraries and offers a complete range of consulting, software, and service solutions. DashTrain, their new mobile-first application, contains over 3,000 microvideo and audio learning bites that enable organizations to give their employees instant access to the world's leading "how-to" business libraries and best-selling authors, anywhere and at anytime. For more information about Prositions, visit https://www.prositions.com
About Laura Goodrich
Laura Goodrich has spent over 20 years as a speaker, coach, and advisor to leaders worldwide, and a distinguished voice on change and the future of work.
She is the award-winning author of "Seeing Red Cars: Driving Yourself, Your Team and Your Organization to a Positive Future," which Forbes magazine labeled as a "must read" for leaders who want what it takes to accomplish positive change. Her most recent works include the microlearning programs, Creating a Mindset for Change, Driving Agility, and Future Focus Leadership.
About ATD 2019
The ATD 2019 International Conference & Exposition is the largest event for talent development professionals worldwide. It provides attendees with the knowledge, strategies, and solutions needed to effectively train and develop talent. Top highlights include insights into the latest trends, best practices, and new solutions for designing, delivering, implementing, and measuring learning programs. For more information about the 2019 ATD conference in Washington DC, visit http://www.atdconference.org.