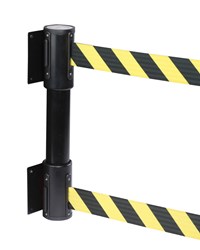 "This is the most innovative industrial safety product that retractable belt barrier manufacturers have produced to date." - Justin Schoen, CEO Pro Stanchions
Grand Island, New York (PRWEB) October 31, 2013
Pro Stanchions makes the latest innovations in Industrial Safety Crowd Control Equipment available before any other company. Introducing the all new WallPro Twin by QueueSolutions, a wall mounted retractable belt barrier featuring a unique Twin Belt configuration.
Wall Mount Retractable Belt Barriers are used in accident prevention by restricting access. The new WallPro Twin provides a wider barrier that amplifies the Caution, Danger or Keep Out message and is more effective in restricting access. WallPro Twin is priced 75% less than the cost of two individual wall mount units and is easier to install. A slow retracting braking mechanism and belt lock add to the safety features of the WallPro Twin.
WallPro Twin utilizes a full range of mounting options including; fixed, removable, magnetic, hose clamp and is available in 41 standard belt colors and messages. The unit's steel housing (yellow or black finishes) provides the durability needed for working environments and the compact design will not create an obstruction in restricted spaces such as corridors and doorways.
Visit the Pro Stanchions website or call directly for the guaranteed lowest prices on the WallPro Twin and all other crowd control safety equipment.
About Pro Stanchions:
Pro Stanchions is North America's fastest growing provider of crowd control equipment including retractable belt stanchions, post and rope, wall mount retractable belt barriers, sign stands, poster stands, traffic control, and steel barricades.