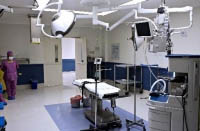 Dr. Allen's therapeutic device can be used for BPH and chronic prostatitis, ultimately reducing inflammation and the size of the affected prostate.
London, Great Britain (PRWEB) August 29, 2013
Termobalancing therapy has a unique power to treat various internal diseases: reduces the size of enlarged prostate and cures chronic prostatitis, eases lower back pain and strengthens the heart muscle, as well as dissolves kidney stones regardless of their composition and size, reports one of the leading newspapers in Armenia, Hraparak, on August 7th, 2013, while interviewing Dr. Simon Allen, Fine Treatment reveals.
Answering the question 'You propose to treat totally different conditions with Thermobalancing therapy. How is it possible?' Dr. Allen replies: 'Well, the answer is simple. Thermobalancing therapy is a new type of treatment of diseases at the capillary level, and not a method of treatment of a single disease. Acupuncture has been known for thousands of years and homeopathy has been around for centuries; both of these therapies have been used for the treatment of various diseases, and that doesn't surprise anyone. Likewise, Thermobalancing therapy works universally.'
Professor Aghajanyan, while discussing natural treatment with Dr. Allen's Devices a week before, notes: 'Nowadays, the number of people wishing to be treated without medications and surgical interventions whenever possible is on the rise around the world. It's not surprising since medicines can cause side effects, and a surgery does not give one hundred percent guarantee of success.' He also mentions that clinical investigation is in progress, "At present several of our patients are already receiving treatment with Dr. Allen's Devices. We have already received early-stage positive feedback, and can say that these devices have a therapeutic effect."
"Medication's downright scary. It's staggering when you read what could possibly happen," says Larry Phillips in the Leader & Times on May 31, 2013. "There's a new treatment out for men to increase their testosterone by rubbing a male hormone under their arms – much like a deodorant stick. Some of the side effects are allergic reactions; hives; difficulty breathing; swelling of the face, lips, tongue or throat. Then there could also be problems with urination; swelling of your ankles; nausea, stomach pain, etc."
Contrary to drugs and surgeries, Dr. Allen's Devices start to work on the affected organ without delay. Please watch a video: http://www.youtube.com/watch?v=V5xidswhxJM, where a man with a hugely enlarged prostate, weighting about 130 grams, has shrunk it to 30 grams by wearing Dr. Allen's Device for two years.
"The Thermobalancing therapy can replace long-term prostate medications," says Dr. Simon Allen. "Dr. Allen's therapeutic device can be used for BPH and chronic prostatitis, ultimately reducing inflammation and the size of the affected prostate."
For details, please visit Fine Treatment at http://finetreatment.com/bph-treatment-prostate-enlargement.
About Dr. Simon Allen and Fine Treatment:
Dr. Simon Allen, MD, PhD is a highly experienced medical professional. His specialty is in the internal medicine. He has treated a wide range of chronic diseases, including patients after a heart attack, with kidneys problems, including kidney stones disease, prostate and spine conditions, as well as metabolic disorders. Fine Treatment exclusively offers Dr Allen's devices for chronic prostatitis and BPH treatment, coronary heart disease, dissolving kidney stones, as well as back pain and sciatica relief.