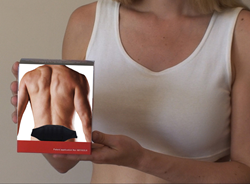 The users of Dr. Allen's therapeutic device get a notable relief from nasty lower urinary tract symptoms by reversing BPH.
London, GB (PRWEB) January 05, 2014
Fine Treatment sees an increase in customer enquiries from all over the world alarmingly showing that enlarged prostate troubles a growing number of men in their 40s. Doctors frequently prescribe long-term medication courses which actually carry a high risk of destroying general health in the future. Fine Treatment recommends a harmless yet effective way of treating prostate conditions with Dr. Allen's Device for Prostate Care, which relieves the worries, while treating prostatitis and enlarged prostate naturally.
One message, for instance, comes from Australia: "I am only 44 and have had BPH for a few years now. I have just purchased your belt device, as I have just been through hospitalisation with a catheter inserted due to not being able to urinate, along with picking up a nasty UTI in the process."
Another recent message from the USA says, "I am 48. I have been diagnosed with BPH. I recently started taking RapaFlo, and also Saw Palmetto."
Another enquiry says: "I live in Canada. I am 48 years old, I have BPH for over 3 years. I went every year for an exam was not told the size, maybe not a large problem. The problem I see is a long time to pee. I don't like drugs or surgery. Herbs don't seem very effective."
An article published in the Renal and Urology News, 'BPH Drug Prescribing Increasing in the U.S.' dated May 5, 2013, says the proportion of visits in which physicians prescribed alpha blockers alone rose from 8.3% in 1993 to nearly 20% in 2010.
'It is an alarming fact that relatively young men with non-malignant enlarged prostate are given long-term courses of medication that doesn't stop the process of prostate enlargement but can cause serious side effects, such as incontinence, impotence and others', comments Dr. Allen.
According to the National Institutes of Health, 'because drug treatment is not effective in all cases of BPH, researchers in recent years have developed a number of procedures that relieve BPH symptoms but are less invasive than conventional surgery.' It must be considered that all such procedures have serious and inevitable side effects.
A prostate treatment with Dr. Allen's therapeutic device helps to terminate BPH. No medication can achieve the same effect. Please watch a video testimonial showing a man who has shrunk his enlarged prostate, weighting about 130 grams, to 37 grams exclusively by wearing Dr Allen's Device for Prostate Care: http://www.youtube.com/watch?v=V5xidswhxJM.
"Dr. Allen's Device provides an essential treatment for BPH and prostatitis without resorting to harmful antibiotics, medications or prostate removal procedures," comments Dr. Simon Allen. "The users of Dr. Allen's therapeutic device get a notable relief from nasty lower urinary tract symptoms by terminating and reversing BPH."
For details, please visit Fine Treatment at http://finetreatment.com/bph-treatment-prostate-enlargement.
About Fine Treatment and Dr. Allen:
Dr. Simon Allen, MD, PhD, Academician, member of the ATA, is a highly experienced medical professional. His specialty is in internal medicine. He has treated a wide range of chronic diseases, including patients after a heart attack, with kidneys problems, including kidney stones disease, prostate and spine conditions, as well as metabolic disorders. Fine Treatment exclusively offers Dr. Allen's Devices for the treatment of chronic prostatitis and BPH, coronary heart disease, for dissolving kidney stones, as well as upper and lower back pain and sciatica relief.