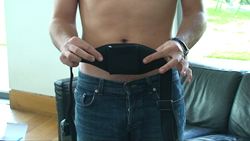 Dr. Allen's Device terminates and reverses prostate enlargement reducing LUTS and protecting men from risky surgeries.
London, GB (PRWEB) November 26, 2014
A ten-second blast of steam could be a promising new treatment for men with an enlarged prostate, says a recent article in the Daily Mail. However, the use of any thermal procedure that involves damage of the prostate tissue should be measured carefully, as it like 'photoselective prostate laser vaporization' may have serious side effects. At the same time Dr. Allen's Device can help to terminate prostate enlargement naturally and reduce lower urinary tract symptoms dramatically, Fine Treatment reveals.
According to the article, 'Alternative treatment shrinks enlarged prostates using a ten-second blast of steam,' dated October 21, 2013, in the Daily Mail, BPH treatment with alpha-blockers has side-effects including dizziness and headaches. Around 50,000 men a year require surgery to correct the problem after drug therapies have failed. However, existing techniques can have mixed results and carry a risk of impotence and urinary incontinence. Therefore, the experimental therapy that uses steam to destroy excess tissue caused by BPH is promising.
At the same time, previous investigations of the thermal therapy side effects have shown that it can produce them often. For instance, the article 'Erectile dysfunction following treatments of BPH' states, "Transurethral vaporization caused loss of erectile functions in 4 of 14 potent patients (29%) at the 3-month follow-up and, one of these patients recovered erectile functions at 6 months."
Moreover, there are many men's forums in the Internet that give clear 'pros and cons' regarding different enlarged prostate treatments. For example, in the steady-health.com which was updated on November 1, 2014, a man posted the following: "I had Green Light surgery about 11 months ago. It took about four months before initial problems went away, including feeling like I might pee on myself and almost constant bladder spasms. During the following months I saw my urologist several more times because my urinating didn't improve much. Now, 11 months later, my stop and go urination is back to about the level it was prior to the operation."
In contrast to BPH medications and any prostate surgical procedure, Dr. Allen's Device improves the condition of a prostate gland by enhancing blood circulation locally. Please watch a short informative video: http://www.youtube.com/watch?v=V5xidswhxJM.
"Men with BPH without chronic severe urinary obstruction should start Thermobalancing therapy as soon as the problem is diagnosed," says Dr. Simon Allen. "Dr. Allen's Device terminates and reverses prostate enlargement reducing LUTS and protecting men from risky surgeries."
For details, please visit Fine Treatment at http://finetreatment.com/bph-treatment-prostate-enlargement.
About Dr. Simon Allen and Fine Treatment:
Dr. Simon Allen, MD, PhD, Academician, member of the ATA, is a highly experienced medical professional. He specializes in internal medicine. He has treated a wide range of chronic diseases, including patients after a heart attack, with kidneys problems, including kidney stones disease, prostate and spine conditions, as well as metabolic disorders. Fine Treatment supports global customer outreach, and ensures international availability of Dr. Allen's Devices for the treatment of chronic prostatitis and BPH, coronary heart disease, for dissolving kidney stones, as well as for easing headaches, dizziness, and relieving lower back pain and sciatica.