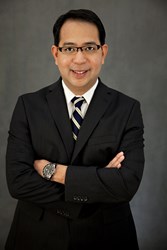 Adarve Prosthodontics specializes in the diagnosis and treatment of patient requiring complex prosthodontic reconstruction, usually involving multiple appointment procedures.
Apple Valley, MN (PRWEB) December 29, 2013
Adarve Prosthodontics announces the release of referral guidelines that outlines the reasons how the practice can assist general dentists and other dental specialists in providing best care for their patients.
According to Dr. Ranier M. Adarve, Adarve Prosthodontics can assist dentists and their team in several ways. The prosthodontic practice specializes in the diagnosis and treatment of patients requiring complex prosthodontic reconstruction, usually involving multiple appointment procedures. Dentists who may feel less than comfortable in starting this type of treatment or may not want to assume the liability in more difficult cases can refer their patients to Dr. Adarve. The practice is ready to assist to achieve optimum patient care.
As a specialty dental practice, Adarve Prosthodontics takes care of the patients the same way as referring dentist takes care of them. The practice keeps the dentist in loop regarding patient's treatment progress. The patients get the best care expected from the practice upon referral. The practice also make certain that the patient will have excellent experience in the office as the patient goes back to the referring dentist for their regular dental care.
The typical cases and reasons why general dentists refer their cases to Adarve Prosthodontics are as follows:

Patients with highly resorbed residual ridges and dentist may not feel comfortable fabricating a removable denture.
Patient that may require increasing or opening the vertical dimension of occlusion.
When Dentist feels uncomfortable changing the jaw relations and determining if the restoration should be in CR or MI.
When Dentist feels uncomfortable restoring high-risk cosmetic cases.
Patients with moderate to high caries index, sever erosion, and badly broken down teeth.
Dentist who may not feel at ease with full mouth reconstructions, implant treatment planning, implant restorations, dentures, or combinations of these treatments.
Cases where teeth are already lost or will soon be lost due poor periodontal prognosis. Dentist may not feel comfortable determining when to restore or when to extract the teeth.
Patients with failing or failed root canals, restorations, implants, or removable prosthetics.
Cases that may require multi specialist coordination.
When referring to Adarve Prosthodontics, dentists and their staff can use any of the following methods below.
About the Prosthodontist
Dr. Ranier M. Adarve, DMD, MS, MHPE, Prosthodontist, is a highly trained and experienced dental specialist with impeccable educational background. Great institutions all over the world molded his training and experiences. He earned his double masters degrees, certificate and professional programs from Harvard Macy Institute (2010), Nobel Biocare Training Institute (2010), University of Minnesota Graduate Schoo l (2005), University of Minnesota Graduate Prosthodontic Program(2005), University of Minnesota College of Educations (2005), University of the Philippines- National Teachers Training for Health Professionals (2002) an University of the Philippines College of Dentistry (1996).
He is also an international dental educator with exceptional academic and scholarly record. He is currently an Associate Professor at University of Minnesota School of Dentistry and taught in Oregon Health and Science University (2005-2007), University of the Philippines (1998-2002) and Emilio Aguinaldo College (1996-2002). In 2012, Dr. Adarve was the Recipient of the Teaching Excellence Award given by the American Dental Educators Association for his outstanding contribution and innovation in dental education. This award is only given to one individual among all the dental educators of US and Canadian Dental Schools and Colleges.
Currently, Dr. Adarve is a member of the faculty of the Department of Restorative Sciences Division of Prosthodontics, where he is appointed as the Course Director for Pre Clinical Fixed Prosthodontics. He also holds various teaching and service roles for undergraduate dental students, International students, and Graduate Prosthodontic residents.
Dr. Adarve is an active member of American College of Prosthodontist (ACP). He is also actively involved inAmerican Dental Education Association (ADEA) since 2004. He became the President of the Educational Research / Development and Curriculum Section of the ADEA in 2011. He is also the most published author in MedEdPORTAL, a publication service that promotes educational scholarship to medical and dental educators and provided by the Association of American Medical Colleges in partnership with the American Dental Education Association.
Dr. Adarve is a practicing Prosthodontist. He is a consultant of the Minnesota Board of Dentistry for Prosthodontics and also a liaison to Central Regional Dental Testing Center (CRDTS). He lectures locally and internationally and runs a study club for general dentist