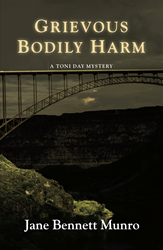 "Munro's story is a roller coaster ride of suspense and intrigue with twists and turns that will entertain a lover of mysteries and forensic crime novels for hours."
TWIN FALLS, Idaho (PRWEB) November 05, 2018
Author and career pathologist Jane Bennett Munro has released five novels in "The Toni Day Series", with "Grievous Bodily Harm" being the third installment.
The story follows Toni Day, M.D., crime investigator and Pathologist for Perrine Memorial Hospital. When Perrine welcomes a new administrator, Day immediately feels she cannot trust him. As Marcus Manning begins eliminating any medical staff or employees who oppose him, Day blows the whistle on his track record of lies, blackmail, and sexual abuse, nearly getting him fired.
When Manning is found dead, Day becomes a prime suspect. To find who really murdered Manning and to keep herself out of jail, Day delves into the private life of him and those close to him. What she finds forces her to do the unthinkable to save her life and learn the truth.
"Munro's story is a roller coaster ride of suspense and intrigue with twists and turns that will entertain a lover of mysteries and forensic crime novels for hours." – The US Review of Books
Bennett Munro, who herself has over four decades in pathology experience, incorporates her own medical and forensic knowledge into her grisly descriptions of her book's victims, offering readers a realistic and gritty story that will leave them riveted.
"Grievous Bodily Harm"
By Jane Bennett Munro
ISBN: 9781532027567 (Softcover), 9781532027574 (Electronic)
Available at the iUniverse Online Bookstore, Barnes & Noble and Amazon
About the author
Jane Bennett Munro holds a medical degree from the University of California, Irvine, and is certified in anatomical and clinical pathology. A hospital-based pathologist for 41 years, Bennett Munro has some experience working in forensics. She currently resides in Twin Falls, Idaho. To learn more, please visit http://www.janebennettmunro.com.