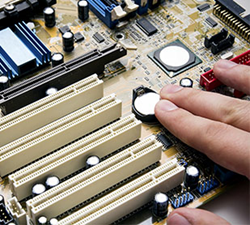 We are dedicated to providing high quality service and expert care to our customers throughout the entire process.
FORT LAUDERDALE, Fla. (PRWEB) December 16, 2014
ProTech Auto Systems, based in South Florida, now provides Powertrain Control Modules (PCMs) for Ford vehicles that monitor both the engine and the transmission – rather than just the engine.
Engine Control Modules (ECMs) monitor a vehicle's engine performance (including fuel, air and electrical). If something does not seem to be working correctly, a vehicle's "Check Engine" light will come on. However, there are times when these computers can go bad themselves, and therefore, cannot properly regulate the vehicle or tell if there is an actual problem.
When this situation occurs, ProTech Auto Systems repairs, replaces and reprograms these computers to get Ford vehicles running again. For each computer the company works on, it must have the same hardware (part number) as the original computer, and also must be programmed and calibrated to that vehicle's specific VIN number.
After 1998, all Ford vehicles came equipped with a chip in the ignition keys, known at Passive Anti Theft System (PATS) keys. PATS are linked to the PCM to prevent someone from simply making a copy of the Ford's ignition key and stealing it – meaning the PCM would not recognize a copied key, and therefore, would not allow the engine to start. Most Ford auto computers must have the keys reprogrammed to the replacement computer, or it will not start. This process can be completed by a Ford dealer or a locksmith for about $150; however, ProTech Auto Systems now offers two pre-programmed keys to be included for most of the Ford computers sent out for an additional $100. This saves customers money and time, and is much more convenient.
There are a few Ford model exceptions to this, such as those designated as work vehicles including the F250, F350, E150, E250, E350, and Crown Victoria police interceptors.
"We understand that acquiring an Engine Control Module for your Ford model can be a confusing process," said Christopher Rock, CEO and Founder of ProTech Auto Systems. "This is why we are dedicated to providing high quality service and expert care to our customers throughout the entire process."
Prior to shipping, all of the computers are tested and backed by the industry-standard, one-year warranty.
About ProTech Auto Systems
ProTech Auto Systems in an American-based company located in Fort Lauderdale, Fla. First opening our doors in 2008, we pride ourselves in making sure our customers have a fast and convenient experience. ProTech is committed to offering quality rebuilt Engine Computers at unbeatable prices. We specialize in programming all Jeep, Chrysler, Dodge, and Ford Computers. We maintain a large inventory and most parts are ready for same-day shipment. Our in-house technicians can repair most unites within one to three business days.
For more information, please contact us at sales(at)protechautosystems.com or call 1-877-764-5402 and allow one of our dedicated representatives to walk you through the entire repair process.
###