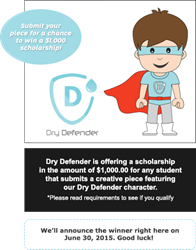 We're excited to see what students come up with
Fulton, MD (PRWEB) October 07, 2014
Bedding company Dry Defender, along with their partner store ProtectiveBedding.com, have just launched a new $1,000 scholarship open to any undergraduate or graduate student enrolled in an accredited US school.
Unlike most scholarships, the Dry Defender Protect Your Bed Scholarship doesn't require any long application forms or boring essays. Instead, applicants are asked to come up with an arch-nemesis for Dry Defender's child superhero mascot, and then create some type of creative piece featuring Dry Defender and his nemesis facing off.
Applicants can send in a comic, short film, drawing, sculpture, poem, or any other form of creative work they come up with. The entrees will then be scored by a panel of ten judges, and the winner chosen based on his or her concept for Dry Defender's nemesis, and the creativity and effort put into the submission.
"We're excited to see what students come up with," said CEO and co-sponsor of the scholarship Bryan Mercer. He said he hopes the scholarship will provide students a fun way to interact with the Dry Defender brand, and also help them in their educational and career goals.
The deadline for the scholarship applications is June 30, 2015, and the winner will be announced on ProtectiveBedding.com by July 31, 2015. "Good luck to all the students," said Mercer. "Just be creative, and have some fun!"
About Dry Defender
Dry Defender offers a wide range of affordable premium bedding, including plastic mattress covers, breathable mattress covers, mattress protectors, mattress pads, underpads, and overlays. Whether your mattress is for an adult, child, or pet, we have the right bedding to keep it dry and defend it from spills, accidents, allergens, and bed bugs.
About ProtectiveBedding.com
Protective Bedding Store is America's one-stop shop for protective bedding, featuring products such as allergy bedding, waterproof bedding, and bedbug covers. Launched in 2004, Protective Bedding Store provides a wide assortment of quality bedding at discounted prices for families looking for ways to create the most protected and comfortable sleeping environment. The company also offers wholesale bedding for camps, boarding schools, homeless shelters, and other facilities. ProtectiveBedding.com is committed to serving families and businesses with the best bedding products at the lowest prices.