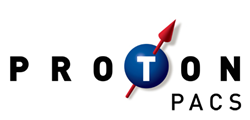 I am confident that our data is now secure, yet still readily accessible.
Brentwood, TN (PRWEB) August 05, 2015
Radsource, a leader in radiology clinical services and provider of Picture Archiving and Communication Systems (PACS), has expanded its PACS service area with four new installations in the second quarter of 2015.
Bone and Joint Specialists (Las Vegas, NV), Physicians Quality Care (Jackson, TN), On Call Emergency Center (Austin, TX), and Peace Medical Center (four locations in South Carolina) will utilize the ProtonPACS view and data archiving services. Since ProtonPACS is a flexible and scalable solution, the four new customers were able to tailor the system to work within their specific environments.
Deployment of the ProtonPACS solution allowed Peace Medical Center to access the system with unlimited licenses and to begin saving their data in the cloud instead of solely onsite. Teresa Pike, Director of IT, stated "Our previous PACS vendor exposed us to medicolegal risk when some of our valuable image data was lost. With the multiple layers of redundancy in ProtonPACS, I am confident that our data is now secure, yet still readily accessible."
Pike states that increased efficiencies are being enjoyed as well, "Previously, only one user at a time could access the PACS, which caused workflow bottlenecks and frustrated staff. ProtonPACS has allowed each user to have concurrent access while also increasing the speed of image load time. In turn, we are able to provide better care for our patients."
About ProtonPACS
ProtonPACS by Radsource provides hospitals, imaging centers and physician practices everything needed to optimize imaging workflow and increase profitability. By combining award-winning PACS software with proactive support, speech recognition, report delivery and guaranteed secure archiving, ProtonPACS delivers a fully functional and flexible PACS solution in a cost effective fee per study model. The service is fully managed and maintained by the ProtonPACS team, greatly reducing internal IT needs, and is uniquely engineered for maximum speed and the elimination of downtime. ProtonPACS is fully regulatory compliant and seamlessly communicates with any information system.
For more information visit http://www.protonpacs.com.