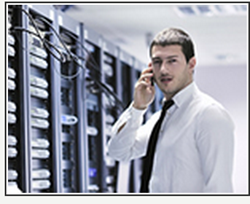 We've learned a lot about our clients over our 15 years in data recovery, and we've been called to intervene in thousands of data loss situations.
New York (PRWEB) November 07, 2013
Proven Data Recovery, a leader in data recovery services in the U.S., announced its new Data Recovery Partner Program, consisting of four distinct divisions to accommodate the very specific organizational needs of its clientele.
Proven Data Recovery Services President Victor Congionti says the company now offers data recovery partner programs specifically designed for educational institutions and universities, government agencies, and small and large businesses looking to receive priority services over non-partners at discounted pricing. In addition, IT consultants and technology service providers looking to leverage the experience of Proven Data Recovery's qualified engineers while adding new revenue streams to their bottom line can benefit from the company's Data Recovery Partner Program designed just for them.
"This is a valuable partner program we wanted to put in place for our clients to glean maximum benefits from our services, and to build their trust in us," Congionti says. "We've learned a lot about our clients over our 15 years in data recovery, and we've been called to intervene in thousands of data loss situations.
"Many companies' IT consultants and service providers have come to depend on us to help retrieve data lost from storms, fire, flood, human error and any other disaster you can name."
Since not every recovery approach is the same, Proven Data Recovery engineers have categorized each plan to best suit the needs of different clients.
1. Small, medium and large businesses can leverage Proven Data's data recovery partner program business model for any type of data recovery scenario. PDR offers streamlined processes and systems to meet and often exceed their business partner's expectations.
2. From IT consultants who service local businesses, to national IT service providers with clients throughout the U.S. that may potentially need data recovery can take advantage of PDR's affiliate data recovery partner program for IT consultants and service providers to obtain additional revenue streams. Established partners receive PDR's expert guidance and assistance throughout the streamlined process.
Through Proven Data Recovery's Partner Portal, affiliates are able to keep track of previous cases and payout amounts, and their customers can track the progress of their data recovery.
You may also submit cases on your customer's behalf. Any business with help desk or IT support department, looking for a streamlined solution to disaster recovery planning may join this program. PDR requires a Federal Tax ID number for commissions of more than $500.
3. PDR's partner program for educational institutions from elementary to university levels provides students, staff, faculty and alumni with affordable data recovery services.
All educational institutions can leverage the Proven Advantage Partner Portal, as PDR empowers clients to submit cases on behalf of staff, track the progress of any data recovery (past and present,) and allow students and faculty to submit their own cases once they provide proof of enrollment such as:
Students:

Current student ID
Registration receipt for current semester
A Letter of enrollment on University letterhead
Faculty:
A link to your School Faculty web page
A copy or picture of their Faculty ID
Letter of Employment on University letterhead
Educational Partner Benefits:
Secure file downloading via the Internet for staff and students who may need access to files quickly.
4. Local, State and Federal government agencies can leverage PDR's governmental model of partner program data recovery. The associated streamlined processes and systems enable Proven Data Recovery to consistently meet and often exceed its government partner's expectations.
PDR's partner programs provide 24/7 around the clock service at a discounted rate. From the beginning to the end of the data recovery process, PDR experts prove their ability to safely and securely recover data in a timely fashion.
All Partners Receive Benefits that include:
Free evaluations.
Priority positioning.
365/24/7 availability, including nights, weekends and holidays.
Access to Proven Advantage Partner Portal.
All Proven Data Recovery Partner Plans offer:
Discounts on all cases.
97 percent success rate on previous cases.
Streamlined processes.
Pay only for data recovered; no data recovered, no charge.
Secure file downloading.
Ability to track past and present cases.
To become a partner, applicants can complete the partner registration form, and partner documents are mailed once the application has been approved. For more information, visit the data recovery partner program website, or call 877-364-5161.
About Proven Data Recovery Services:
A subsidiary of Congi Enterprises, Proven Data Recovery Services was founded by brothers Victor and Mark Congionti, specialists in full spectrum data recovery. Utilizing proven data recovery methods and resources, the company has successfully recovered lost and damaged data and systems on thousands of previous data recovery cases. All clients and cases are kept strictly confidential throughout the recovery process.
With Offices in New York City, Chicago, Boston, Hartford, and Stamford, Proven Data Recovery Services offers qualified data recovery professionals, exceptional customer service, and the highest rate of data recovery in the industry.
###