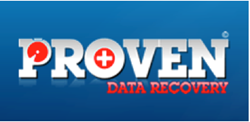 Proven Data Recovery was the first data recovery company in the industry to fully encrypt its entire website with SSL.
NEW YORK, (PRWEB) February 13, 2015
Proven Data Recovery, a leader in file recovery services in the U.S., has put new technology and protocols in place to increase safeguards and better protect valuable client data files in 2015. The announcement reinforces PDR's commitment to client security at a time when increasingly nefarious data breaches are becoming an industry standard.
Proven Data Recovery President of Business Development Victor Congionti has more than 10 years' experience in IT security in a professional environment. Since co-founding the company with his brother in 2011, Congionti has become extremely aware of the trauma individuals experience when they discover they need disaster recovery services.
"We understand that information recovery can be a sensitive and personal matter," Congionti says. "We are committed to security and prohibiting the release of secure information to an untrusted environment."
According to Congionti, inexperienced employees are the primary cause of data breaches, which is why he insists the need for security awareness training and proper vetting for new hires is so important. This year, Congionti says he will be maintaining the strictest company-wide safeguards which includes:

Ensuring that each Proven Data Recovery specialist has undergone a thorough evaluation and background check, possesses a minimum of 15 years' experience in data recovery, and has received specialized internal training on security processes.
Continuing to impose 256 bit AES encryption, DDOS protection, enterprise level intrusion detection, malware/virus scanning tools and most importantly, two-factor authentication for systems.
"It's worth mentioning that Proven Data Recovery was the first data recovery company in the industry to fully encrypt its entire website with SSL," says Congionti. "This comes in a time when Google has stated that they encourage all website owners to switch from HTTP to HTTPS to keep everyone safe on the web."
Congionti says the best way for individuals to protect their sensitive data when they find themselves in need of disaster recovery services is to do their homework before entrusting it to just any firm claiming to be data recovery specialists.
"Start by reviewing the company's experience, customer testimonials and success rates," Congionti says. "Unfortunately, some companies can mislead customers about their experience and capabilities; we have encountered many cases in which a botched attempt to recover data resulted in permanent unrecoverable data loss.
"Make sure to find a firm with a proven track record for recovery practices that honor the sensitive nature of each individual customer's data."
For more information, visit the Proven Data Recovery website, email service(at)provendatarecovery.com or call 877-364-5161.
ABOUT PROVEN DATA RECOVERY:
With more than 15 years of experience, Proven Data Recovery has created a streamlined data recovery model for its clients, which has resulted in a 97 percent success rate on thousands of previous data recovery cases. In addition to private individual cases, Proven Data Recovery has worked with government agencies, large commercial banks and organizations, universities, medical offices, law firms, and enterprise-level HR Departments. Proven Data Recovery utilizes a Class 10 ISO 4 type clean room and cutting edge recovery technology to ensure secure data retrieval. PDR prides itself on its commitment to operating on principles of unwavering professionalism in creating a truly secure environment for successful and confidential file recovery.
###