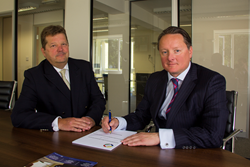 "As the market leader in mobile- and office-based telephony solutions, PRS Telecom is delighted to have agreed this partnership with Gary Dewhurst," said Patrick Gill, Director of PRS Telecom.
Mold, Chester. (PRWEB UK) 9 May 2016
PRS Telecom, a UK market leader in telecommunications solutions, officially announced its five-year partnership with the founder and CEO of gap personnel group, Gary Dewhurst.
The exciting agreement is part of PRS Telecom's ambitious growth plans and makes Gary a major shareholder. An award-winning entrepreneur, investor and business mentor, Gary is founder and CEO of the gap personnel group, which currently achieves a consistent turnover in excess of £100m.
The strategic partnership has already enabled a number of significant, positive improvements for PRS Telecom – the acquisition of several major client accounts, the recruitment of new staff to manage the increase in opportunities, and a shift of the headquarters to larger, bespoke offices. PRS Telecom has also commissioned a complete redesign and rebuild of their website, which was launched in March 2016.
PRS Telecom's ambitious approach to business growth includes plans to quadruple turnover by 2018. By 2020, PRS Telecom aims to be a £10m business with more than 10 offices spread across the UK.
"As the market leader in mobile- and office-based telephony solutions, PRS Telecom is delighted to have agreed this partnership with Gary Dewhurst," said Patrick Gill, Director of PRS Telecom. "This is synergistic relationship that is all about working together to drive the expansion of PRS into a much stronger, more robust and more profitable business, with even more satisfied customers."