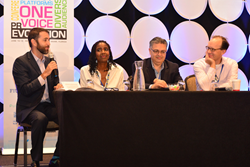 I was delighted by the opportunity to facilitate this valuable discussion with an impressive array of savvy and seasoned journalists.
Deerfield Beach, FL (PRWEB) June 21, 2016
Respected PR expert and founder of leading strategic communications agency Red Banyan Group, Evan Nierman recently moderated a roundtable of top South Florida journalists. Part of the 2016 PRSA Sunshine District Conference in Miami (June 16-18), the media panel was called Media Matters: How Candidates and Journalists are Shaping the 2016 Elections.
A political communications expert, Nierman was invited by conference organizers to host the discussion on this timely and important topic. Joining Nierman on stage were Associated Press National Political Writer Sergio Bustos, Vice President of News and Special Correspondent for WLRN Tom Hudson, and Miami Herald Editorial Page Editor Nancy Ancrum.
The panelists provided the audience with insightful and fascinating perspectives on the changing face of news, the importance of candidates driving consistent messages, and why a perfect storm of factors have combined to make the 2016 elections so unusual and unpredictable.
The panelists shared with the 100-plus professional communicators in attendance a series of recommendations for how to work most effectively with the media. Hudson underscored the symbiotic nature of the relationship, describing PR pros as "extra eyes and ears" to alert the press to good stories. Ancrum spoke about the importance of knowing the beats and areas of focus for journalists before pitching them. Bustos noted that he appreciates being offered exclusivity on stories, and encouraged PR pros to send shorter, more impactful and thoughtful quotes that can be easily inserted into pieces.
"I was delighted by the opportunity to facilitate this valuable discussion with an impressive array of savvy and seasoned journalists," said Red Banyan Founder Evan Nierman. "As a communications practitioner, it was particularly fun to flip the script and put on the hot seat the very people who interview our political and business leaders each day. This session was extremely informative and the conference organizers should be commended for putting together an exceptional event."
The annual PRSA Sunshine District Conference attracts hundreds of public relations professionals from across the state. The two-day gathering features professional development workshops, keynotes and breakout sessions by nationally recognized industry experts and special guests.
About Red Banyan Group
Red Banyan Group is a top public relations agency with clients from across the country and the world. With offices in Florida and Washington, D.C., Red Banyan Group combines substantive understanding of complex issues with the experience and skills needed to execute campaigns that deliver results. Specializing in crisis communications, corporate public relations, government relations, and legal PR, Red Banyan group provides an integrated approach to communications that's rooted in strategy.
Learn more at http://www.redbanyan.com, become a fan of the Red Banyan Group Facebook page and follow the firm on Twitter, Google+ and LinkedIn.