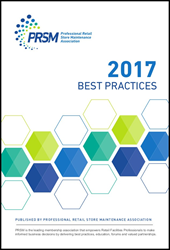 Dallas, TX (PRWEB) June 13, 2017
The Professional Retail Store Maintenance Association, (PRSM), the authority on retail, multi-site facilities management, released its 2017 Best Practices book. The book presents retail facilities management case studies to help boost the bottom line at retail stores, by strategically driving efficiencies through effective retail facilities maintenance business practices.
This year's compilation includes case studies from more than 40 suppliers and retailers, including Nike, Inc., Walgreens, ASSA ABLOY Entrance Systems, Chain Store Maintenance, Phoenix Energy Technologies and W Services Group, LLC.
This year's publication features case studies that cover more than 19 different categories including environmental, health & safety, fire protection, pest control, technology and energy efficiency. Several of the case studies focus on regulations and best practices for regulatory compliance.
"The 2017 Best Practices Book is an excellent addition to PRSM's annual series. This publication provides members with real-life examples of challenges faced by facility management professionals as well as solutions our members have developed," said Bill Yanek, CEO, PRSM. "PRSM appreciates this year's sponsors, Chain Store Maintenance and W Services Group, LLC, for recognizing the value of this year's edition."
PRSM Association's 2017 Best Practices Book is available in limited print edition and online for PRSM members at http://www.prsm.com.
PRSM Association's Resources Center provides management tools for the Retail FM and supplier community. Resources include quarterly white paper releases; the annual Best Practices Book, representing a wide spectrum of FM industry trades; and the Retail Facilities Benchmarking program, along with other research-based Trends Reports, and Buyer's Guide resources (print and online). Resources also include the bi-monthly magazine, Professional Retail Store Maintenance (print and electronic), and PRSM Weekly (a news-focused e-newsletter).
###
About the Professional Retail Store Maintenance® Association (PRSM)
PRSM Association, the authority on Retail and Multi-site Facilities Management, is the leading membership organization for retail facilities and vendor professionals. PRSM empowers the Retail Industry facilities management with best practices, benchmarking, education, discussion forums and trusted partnerships. Chartered in 1995, and with approximately 950 member companies, PRSM community values are founded on a spirit of innovation, resourcefulness, the quest for knowledge and ethical business relationships. Members depend on PRSM to help them achieve greater success and a competitive advantage through quality programs and resources.
Visit prsm.com for more information.