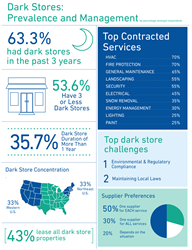 "Dark stores are a challenge for the retail industry, and they must be maintained to protect their value," says Bill Yanek, CEO, PRSM.
Dallas, TX (PRWEB) October 23, 2017
The Professional Retail Store Maintenance Association, (PRSM), the authority on retail, multi-site facilities management (FM), has released its white paper, Dark Stores: How to Conquer Important Maintenance Challenges, that provides facilities professionals guidance on dark store management. The paper highlights why dark store management is critical and different approaches facilities management professionals can use to manage dark stores.
Earlier this year, Credit Suisse reported that more than 8,600 retail stores will close, and become dark stores in 2017, compared to 2,056 in 2016 and 5,077 in 2015. Every dark store is a valuable asset to the retailer and must be managed to protect its current and future value.
The PRSM White Paper includes a current store condition and preparation shut-down check lists, as well as valuable information on improving curb-appeal, dumping and debris, dealing with squatters, security, energy management, as well as weed and turf management. Potential creative solutions for leasing dark stores are presented including: pop-up retail, entertainment venues, business offices, medical services, educational settings and more.
The paper also includes: a dark store benchmarking snapshot, and four best practices applicable to retail dark store management.
"Dark stores are a challenge for the retail industry, and they must be maintained to protect their value," says Bill Yanek, CEO, PRSM. "This white paper provides valuable, practical guidance that will enable the retail facilities professional to more easily protect and manage dark stores."
PRSM Association's Resources Center provides management tools exclusively for the Retail FM and supplier community. Resources include: quarterly white papers on leading industry issues; the annual Best Practices Book that covers a wide spectrum of FM industry trades; and the Retail Facilities Benchmarking program. Other resources such as industry research-based Trends Reports, and Buyer's Guides (print and online), the association's bi-monthly magazine, Retail Store Maintenance (print and electronic), and PRSM Weekly (a news-focused e-newsletter) help keep retail facilities managers up to date on breaking trends and industry issues.
For a full copy of the report, please contact Bruce Condit, VP-Communications and Public Affairs by emailing bcondit(at)prsm(dot)com
About the Professional Retail Store Maintenance® Association (PRSM)
PRSM Association, the authority on Retail and Multi-site Facilities Management, is the leading membership organization for retail facilities and vendor professionals. PRSM empowers the Retail Industry facilities management with best practices, benchmarking, education, discussion forums and trusted partnerships. Chartered in 1995, and with approximately 950 member companies, PRSM community values are founded on a spirit of innovation, resourcefulness, the quest for knowledge and ethical business relationships. Members depend on PRSM to help them achieve greater success and a competitive advantage through quality programs and resources.