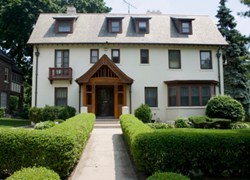 Frisco is a clear-cut seller's market and should remain that way for the foreseeable future.
Dallas, Texas (PRWEB) July 18, 2013
For a city that has one of the most rapidly growing populations in all of Texas and has also led the nation in population growth per capita for the majority of the last ten years, it's no wonder that Frisco home values are through the roof, with Frisco's median sale price continuing at a steady clip as much of the nation's housing market plateaus after the boom that took place in the first half of 2013.
Prudential Texas Properties reports that a July 8 overview from California-based real estate analytics tracker Altos Research saw the median home list price for Frisco homes at $409,900. This number is up roughly $80,000 from July 2012, giving Frisco homes a massive 20 percent gain in list price value year-over-year. And it's also a six-figure gain from July of 2011, when the median Frisco home price was hovering right around $310,000.
More importantly than all this, Frisco homes are showing no sign of declining, and have been climbing in value in recent weeks as the rest of the national market plateaus or dips. As Altos noted in the Frisco report, "The market continues to get hotter. More sales demand and fewer homes listed have contributed to a relatively long run of increasing prices. Current supply and demand levels show no sign of prices changing from their current trend." And after slightly dipping under $400,00 for a brief spell in June, the Frisco market has continued its roar back toward historic values, with the Altos report concluding that, "Prices continue to demonstrate a nice up trend over the last several weeks."
Click here for a 60-second Frisco real estate market update.
The amount of days on market (DOM) for Frisco homes has also been extremely low as of recent, with the average Frisco home having a DOM of 83. Low DOM in an area is usually symptomatic of decreased inventory and its inherent high buyer demand, and with only 725 properties available on the market in a city of more than 130,000, it's safe to say that Frisco is a clear-cut seller's market and should remain that way for the foreseeable future.
This low DOM trend is even more apparent when one looks at Altos' breakdowns of median list prices over the four Frisco market quartiles. The 150 DOM in the highest quartile, which has a median list price of $774,900, is an outlier that takes away from just how quickly more inexpensively priced homes in this metro are being turned over. While the $474,900 median list price of the second quartile saw an average DOM that was right around the market's overall average, the third quartile's $355,990 median list price had a DOM of just 51 days, and the fourth quartile was even lower, with those $229,900 homes being on the market for only 45 days.
While Frisco inventory rates have climbed slightly in recent weeks, that isn't necessarily indicative of a tapering-off seller's market like it would be in other areas. The reason why? Frisco's rapid growth coupled with the fact that the city is only halfway developed mean that contractors are working around the clock to construct new homes for this hot market. As executive director of the Frisco Convention & Visitors Bureau Marla Roe pointed out recently, "Frisco is only about half built out, so when people are considering developing in the area … it's an extra avenue for Frisco's growth."
Adds DD Flynn, VP of Marketing with Prudential Texas Properties, "Frisco is one of the hottest markets in the Dallas area, and the skyrocketing tourism numbers seen here recently along with the population increase only signal that every financial facet of this city has room for extended growth. Simply put, Frisco is a great place to invest, and also a great place to live."
©2013 BRER Affiliates LLC. An independently owned and operated broker member of BRER Affiliates, LLC. Prudential, the Prudential logo and the Rock symbol are registered service marks of Prudential Financial, Inc. and its related entities, registered in many jurisdictions worldwide. Used under license with no other affiliation with Prudential. Prudential Texas Properties is an independently owned and operated member of BRER Affiliates LLC.