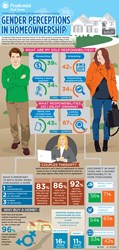 Buying or selling a home can be emotional for anyone, regardless of gender. Our real estate professionals know how important it is to work with couples to ease the tension and anxiety related to the home buying or selling process.
Washington (PRWEB) November 07, 2013
Prudential Real Estate, an HSF Affiliates LLC company, and Prudential PenFed Realty today released results of its third quarter Consumer Outlook Survey indicating men and women don't necessarily see eye to eye when it comes to homeownership and the responsibilities related to home-buying and selling.
Men claim to be more responsible for financial aspects while women assume the lead for neighborhood research and planning portions of the process. While 39% of men in partnerships claim researching banks and securing a mortgage are completely their responsibility, 42% of women in partnerships indicated it is their sole responsibility to manage appointments and 34% take the lead in researching neighborhoods.
Women also seem to enjoy the process of purchasing a home more so than men. A full 87% of women said they enjoy looking at homes compared to 77% of men. Moreover, feelings associated with homeownership are more pronounced in women than in men. When asked about the reasons why homeownership is "very important," more women associated it with a sense of pride or accomplishment (16% higher than men) and independence (11% higher). For men, "control over living space" and "more space for my family" were most important.
"As the real estate market strengthens and household formation grows, men and women approach the buying-selling process from different angles," said Earl Lee, chief executive officer of HSF Affiliates LLC and president of Prudential Real Estate. "What's most interesting is the dynamic that exists among couples and the role that agents play in balancing couple's real estate objectives."
A gap seems to exist between men and women about the perception of shared responsibilities involved in purchasing and selling homes.

71% of females say that making the down payment is a shared responsibility compared to 56% of males.
53% of males are more likely to say researching schools is a shared responsibility compared to 42% of females.
65% of females say collecting and evaluating assets and/or financials is a shared responsibility whereas only 54% of males say the same.
63% of men say keeping the house in order for a potential buyer is a shared responsibility compared to 47% of women
The sexes stand in agreement on the "most important home features," ranking "safe neighborhood," "overall condition of the home" and "number of bedrooms" ahead of others.
Still, the varying points of view between men and women place agents in the middle, serving as the local-market expert and often the voice of reason. Of those surveyed and in a partnership, 83% said their last real estate agent was helpful in forming an agreement with their partner and 86% value the agent's point of view as much as or more than their partner's.
"Buying or selling a home can be emotional for anyone, regardless of gender. Our real estate professionals know how important it is to work with couples to ease the tension and anxiety related to the home buying or selling process," said Kevin Wiles, president mid-Atlantic region of Prudential PenFed Realty. "It is paramount that all parties involved in the transaction are comfortable with the process and can rely on their real estate professional to look out for their best interests."
Both women and men cited "honesty" and "knowledgeable" as the most important qualities in a real estate agent, and 92% of respondents said their agent was helpful in the real estate process.
Confidence Remains in the Marketplace
Consumers remain confident in the recovering real estate market, according to the survey. Their favorability perception of residential real estate at 73% rose to the highest level since the survey began in 2011.
Homeownership continues as a priority to nearly all survey respondents, as 96% described it as "very important" or "somewhat important."
"People believe in real estate and want to take advantage of the housing opportunities out there," said Stephen Phillips, chief operating officer at HSF Affiliates LLC. "A home is a solid, long-term investment on which you can live and build your dreams."
The full survey details are available upon request. An infographic illustrating survey findings is available here.
Prudential Real Estate Outlook Survey Methodology
Interviews with 2,641 Americans who are "in the market" to buy or sell a home were conducted online by Edelman Berland in August and September 2013. Respondents are aged 25-64 with a household income of at least $50,000, and either recently bought/sold a home or are considering buying/selling a home. The margin of error is ± 2.0% for all respondents.
About Prudential PenFed Realty
Prudential PenFed Realty, wholly owned by PenFed (Pentagon Federal Credit Union), is a full-service real estate company with an annual sales volume over $1.7 billion; serving PenFed members as well as the general public. Recognized as a leading real estate company in its service area, it is ranked among the top Prudential affiliates nationwide. Over 1,700 top-notch sales professionals work out of Prudential PenFed Realty's 49 offices to provide complete real estate services nationwide.
Prudential PenFed Realty is an affiliate of the Brookfield/Home Service Franchise (Formerly Prudential Real Estate) Residential Property Services network. Its franchises are independently owned and operated. The network provides franchises with numerous benefits, including access to Prudential Real Estate's Online Seller Advantage® program designed to provide real-time information to sellers in an easy to use system; and Online Buyer Advantage®, enabling consumers to easily search for property in all 50 states and the District of Columbia. Prudential Real Estate is one of the largest real estate brokerage franchise networks in North America, with more than 1,500 franchise offices and 50,000 sales professionals in the franchise Network as of December 31, 2011.
©2013 BRER Affiliates LLC: An independently owned and operated broker member of BRER Affiliates LLC. Prudential PenFed Realty is an independently owned and operated member of BRER Affiliates LLC. PenFed Membership is not required to conduct business with Prudential PenFed Realty.
About Prudential Real Estate and HSF Affiliates LLC
Prudential Real Estate is a part of the HSF Affiliates LLC real estate brokerage family, which includes Real Living Real Estate and the new Berkshire Hathaway HomeServices brand available later in 2013. Prudential Real Estate franchises are independently owned and operated. HSF Affiliates LLC, based in Irvine, Calif., is a joint venture of HomeServices of America and Brookfield Asset Management.
Prudential, the Prudential logo and the Rock symbol are registered service marks of Prudential Financial, Inc. and its related entities, registered in many jurisdictions worldwide. Used under license with no other affiliation with Prudential.