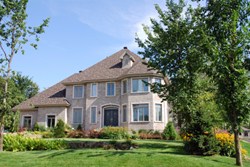 Southlake homes values are up by more than $200,000, or 23 percent, from where they were when the year began.
Dallas, TX (PRWEB) August 12, 2013
The affluent suburb of Southlake, located just about 25 miles northwest of the heart of Dallas, is home to more than 27,000 residents who all take pride in one exemplary quality this city continues to demonstrate: greatness. For some, that greatness takes place in the form of the eight-time state champion Carroll High School football team, and for others it manifests itself in the fine architecture and unparalleled quality of life in comparison with other Dallas-area suburbs. Most recently, greatness for Southlake homeowners has come in the form of the 2013 real estate boom, which has treated the city's home values extremely well, especially in the past few months.
Prudential Texas Properties reports that an August 5 market analysis from California-based real estate tracker Altos Research saw the median home list price for Southlake homes at a whopping $849,500. This is by far the highest seven-day average that Southlake has seen for the nearly three years that Altos has on record, and is up more than 23 percent from where it was at the beginning of 2013 when it was at roughly $650,000. What's more, this number has been skyrocketing ever since April and has shown little signs of letting up.
Watch a 60-second Southlake home market update.
Numbers that see appreciation this drastic over such a short period of time beg for some speculation, and those interested in buying or selling Southlake Texas homes might rightly question if there is an ample data pool to draw from to make sure these numbers are truly reflective of the Southlake market. But with more than 200 properties currently listed in the area, it would appear that Southlake home values really are that amazingly hot. Beyond that, even the more reliable 90-day average for Southlake homes is up dramatically from the beginning of the year, with a six-figure increase following a similar trend as the 7-day average.
And as for that Southlake inventory, while the amount of Southlake homes for sale are up slightly from the beginning of the year, the 202 properties currently on the market is a number that has been dropping since June when it was closer to 225. Additionally, days on market (DOM) for Southlake homes are down vastly, with the current DOM of 116 down from more than twice what it was at the beginning of the year, according to the Altos report.
"Southlake is one of the most sought-after dwelling spaces in the entire North Texas area," says DD Flynn, VP of Marketing with Prudential Texas Properties. "And with the amazing ripple effect that the Dallas real estate boom has had on neighboring communities, it's no wonder that a community as desirable as Southlake is this highly in-demand."
©2013 BRER Affiliates LLC. An independently owned and operated broker member of BRER Affiliates, LLC. Prudential, the Prudential logo and the Rock symbol are registered service marks of Prudential Financial, Inc. and its related entities, registered in many jurisdictions worldwide. Used under license with no other affiliation with Prudential. Prudential Texas Properties is an independently owned and operated member of BRER Affiliates LLC. Equal housing opportunity.