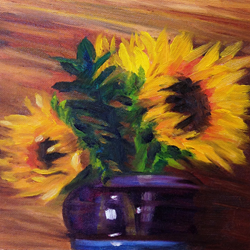 We are thrilled to have this exciting opportunity to showcase the works of three very talented, local artists.
Alexandria, Va. (PRWEB) July 16, 2014
Prudential PenFed Realty announces that it will host yet another Del Ray Artisans showcase event that features the artwork of three local artists. The show is scheduled for Monday, July 21 from 6 p.m. until 8 p.m. at 300 N. Washington Street in Alexandria,Va. This new Gallery Without Walls show is free and offers an opportunity for residents and visitors to enjoy local talent, hors d'oeuvres, and wine on the opening night of the exhibit, which lasts through October.
"I paint and use collage to interpret my subjects in ways that are more interesting to me than what I see. My purpose in creating these paintings was to represent an idea or an object by using my imagination and challenging myself, rather than creating art in a predictable manner," said Sharon Frey, abstract artist who specializes in large canvas pieces (see: Looking Out)
Linda Lowery, artist, has worked in varied media including drawing, ceramics, oil and acrylic painting, though she now concentrates full time on her painting, working both en plein air and in her studio in Alexandria. (See: Impressions of Sunflowers)
"The shapes and forms of fruits and vegetables provide a simple, yet elegantly complex, vehicle through which I express the emotional battle inside," explains Wendy Band, artist who works in acrylic, pastel and caran d'ache. "The juxtaposition of color, form and mark are the foundation of these works." (See: Harmonics in Orange)
Prudential PenFed Realty's Alexandria office began its series of art shows in 2010 to show support for the local Del Ray Artisans and charities close to the community.
"We are thrilled to have this exciting opportunity to showcase the works of three very talented, local artists," said Maxine McLeod Miller, managing broker of Prudential PenFed Realty's Alexandria office.
In November of 2013 a silent auction event named "A Night For Military Heroes" raised thousands of dollars for the PenFed Foundation. These silent auctions and quarterly themed events feature the artwork of the Del Ray Artisans accompanied by wine and hors d'oeuvres, fundraising and the ability for the public to meet the artists and purchase their artwork.
"Del Ray Artisans is pleased to continue the partnership established several years ago in which DRA artists display selected works from our exhibits in the Prudential PenFed Realty Alexandria office," said Michele Reday Cook, president of the Del Ray Artisans.
To RSVP for this free event or find out more about Prudential PenFed Realty and its involvement in the community please contact Maxine McLeod Miller, managing broker, at 703.836.1464.
About PenFed Realty
PenFed Realty, wholly owned by PenFed (Pentagon Federal Credit Union), is a full-service real estate company with an annual sales volume over $2.8 billion; serving PenFed members as well as the general public. Recognized as a leading real estate company in its service area, it is ranked among the top 25 Prudential affiliates nationwide. Over 1,700 top-notch sales professionals work out of PenFed Realty's 50+ offices to provide complete real estate services nationwide.
Prudential PenFed Realty is an affiliate of the Brookfield/Home Service Franchise (Formerly Prudential Real Estate) Residential Property Services network. Its franchises are independently owned and operated. The network provides franchises with numerous benefits, including access to Prudential Real Estate's Online Seller Advantage® program designed to provide real-time information to sellers in an easy to use system; and Online Buyer Advantage®, enabling consumers to easily search for property in all 50 states and the District of Columbia. Prudential Real Estate is one of the largest real estate brokerage franchise networks in North America, with $109.3 billion in sales volume (USD), 389,000 open transaction sides, nearly 1,400 offices, and 47,000 sales professionals in the franchise Network as of December 31, 2012.
© 2014 BRER Affiliates LLC. An independently owned and operated broker member of BRER Affiliates LLC. Prudential, the Prudential logo and the Rock symbol are registered service marks of Prudential Financial, Inc. and its related entities, registered in many jurisdictions worldwide. Used under license with no other affiliation with Prudential. Equal Housing Opportunity. We are proud to be an equal opportunity employer: m/f/v/d.