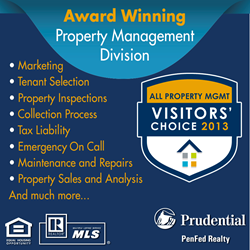 This award exemplifies the high level of professionalism that our property managers and staff embody.
Alexandria, Va. (PRWEB) March 04, 2014
Prudential PenFed Realty announced today that its Property Management Division received All Property Management's 2013 Visitors' Choice Award. All Property Management is an online network of property management services that provides property owners with resources to help property owners maximize their rental income.
Prudential PenFed Realty's Property Management Division received this award because it was among the most selected companies on All Property Management's network, which it recognizes as being a direct result of strong brand recognition by consumers, and a history of being a highly respected property management company.
The popular website awards the top 300 (out of 2000+) property management companies who had been chosen most often by the more than 2 million visitors that visited the website in 2013.
"We strongly believe that it is our company's continued mission, vision, and values that make us a leader in our industry," said Alana Alger, director of operations at Prudential PenFed Realty Property Management. "Our mission is to always deliver service beyond excellence and unparalleled value. We would like to thank All Property Management for this honor and recognition."
Prudential PenFed Realty is listed in the top chosen companies for the state of Maryland, as well as #2 in the state of Virginia.
"This award exemplifies the high level of professionalism that our property managers and staff embody," said Shashi Vohra, executive vice president of the PenFed Group. "Prudential PenFed Realty provides full service to our clients, both in the real estate transaction and ongoing property management."
Earlier this year Prudential PenFed Realty announced a successful 2013 and its continued growth in the market place. It experienced a 650% growth in number of agents and now boasts 50+ locations nationwide. In 2013, it sold 10,800 units with a total settled volume of $2.8 billion, and the Property Management Division added 173 units to its portfolio.
Prudential PenFed Realty's Property Management Division manages properties for clients throughout the Washington, D.C. Metro area, as well as Clarksville, TN. Its staff of senior property managers, property managers, and bookkeepers specialize in investment properties. Prudential PenFed Realty offers real estate services across the nation.
For more information about Prudential PenFed Realty's Property Management Division, visit http://www.penfedpm.com or contact Donna Brewer at 703.383.6173 or by email at donna.brewer(at)penfedrealty(dot)com.
About PenFed Realty
PenFed Realty, wholly owned by PenFed (Pentagon Federal Credit Union), is a full-service real estate company with an annual sales volume over $2.8 billion; serving PenFed members as well as the general public. Recognized as a leading real estate company in its service area, it is ranked among the top 25 Prudential affiliates nationwide. Over 1,700 top-notch sales professionals work out of PenFed Realty's 50+ offices to provide complete real estate services nationwide.
PenFed Realty is an affiliate of the Brookfield/Home Service Franchise (Formerly Prudential Real Estate) Residential Property Services network. Its franchises are independently owned and operated. The network provides franchises with numerous benefits, including access to Prudential Real Estate's Online Seller Advantage® program designed to provide real-time information to sellers in an easy to use system; and Online Buyer Advantage®, enabling consumers to easily search for property in all 50 states and the District of Columbia. Prudential Real Estate is one of the largest real estate brokerage franchise networks in North America, with more than 1,500 franchise offices and 50,000 sales professionals in the franchise Network as of December 31, 2011.
© 2014 BRER Affiliates LLC. An independently owned and operated broker member of BRER Affiliates LLC. Prudential, the Prudential logo and the Rock symbol are registered service marks of Prudential Financial, Inc. and its related entities, registered in many jurisdictions worldwide. Used under license with no other affiliation with Prudential. Equal Housing Opportunity. We are proud to be an equal opportunity employer: m/f/v/d.